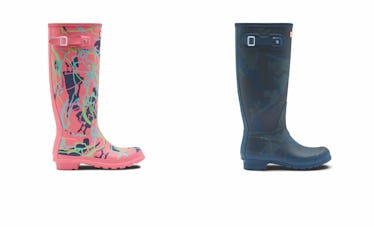 Hunter's New 'Mary Poppins'-Inspired Boots Will Add Some Magic To Your Fall Wardrobe
Courtesy of Hunter
When you think about it, rainstorms can be pretty magical. Between hypnotizing pitter-patters on the rooftop and gorgeous post-storm rainbows, a good autumn shower can put you in a trance. Believe it or not, Hunter Boot Ltd — the company that brings you those waterproof rain boots that you adore — is adding even more magic to gloomy weather. The boot haven recently partnered with Disney to release Hunter x Marry Poppins Returns boots, and they'll add a spoonful of sugar to all of those rainstorms that you'd typically dread.
In case you're unaware, a Marry Poppins spinoff called Marry Poppins Returns is slated to hit theaters on Dec. 19. According to the movie's IMDB webpage, the film will focus on Marry Poppin's return to help the Banks siblings decades after her original debut. Needless to say, it's going to be a must-see for Marry Poppins fans — and one look at the trailer will get you excited to watch the entire movie.
If you've already watched the trailer for Marry Poppins Returns, you were probably taken aback by the beloved nanny's magic (I know I was). In fact, the nanny in the new movie — who is played by the lovely Emily Blunt — is featured in Hunter's enchanting new boot collection. In fact, her silhouette is shown on all of the boots amongst various camouflage patterns that are sure to add magic to your fall wardrobe.
Take a look at the Hunter x Marry Poppins Returns boots for women that are available as of Thursday, Nov. 8.