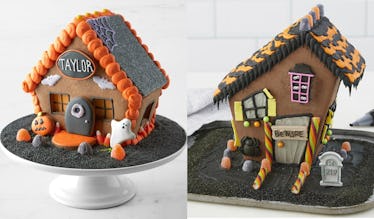 These Haunted House Cookie Kits Are Tasty Additions To Your Halloween Decor
Williams Sonoma, JoAnne's
This might be an unpopular opinion, but in my book, it isn't a crime to start planning out your Halloween decorations as soon as summer ends. Between taking inventory of what you already own, browsing all your favorite stores for brand new items, and, most importantly, mapping out where you want everything to go, there's a lot to do before spooky season officially rolls around. And that's exactly why I'm already looking into these Halloween gingerbread houses for 2019 — they are undeniably frightening (yet seriously delicious) snack-orations for the fall season.
While cotton spiderwebs, neon orange lights, and scarily realistic statues are all totally acceptable Halloween decorations, there is truly nothing like having a delicious Halloween cookie house in the comfort of your own haunted home. Between candy bats, chocolate roof shingles, and — of course — a few sugary gravestones to decorate that edible cookie front lawn, they provide a lot for you to munch on as you float around the house, basking in pure Halloween heaven.
So, if you're currently on the hunt for the best Halloween cookie house kits before the greatest fall holiday rolls around, here are a few you should probably consider. They are bound to spice up your spooky season.