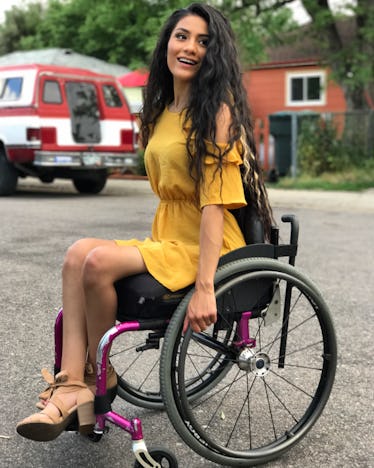 These Survivors' Stories Highlight The Real Effects Of Gun Violence In America
Courtesy of Karina Vargas
America has a problem with gun violence. In 2017 and 2018, America's decades-long love affair with firearms was thrust into the spotlight thanks to multiple high-profile shootings, including the Marjory Stoneman Douglas High School shooting and the subsequent March For Our Lives movement. But while the spotlight on gun violence might have been new for many Americans, for far too many others, it was just another chapter in an ongoing tale. According to a new report from gun safety advocacy group Everytown For Gun Safety, America experiences gun violence at 10 times the rate of other high-income countries, with more than 36,000 people dying every year. And for survivors of gun violence, that number is measured in memories.
While high-profile mass shootings frequently receive the lion's share of attention, the real face of gun violence is often less public. Everytown's report, titled A Nation Of Survivors and released Feb. 1, notes that more than half of gun deaths, some 22,000 a year, are suicides. Nor are deaths the only consequences of gun violence — somewhere around 100,000 people are injured by guns every year but survive, often with lifelong consequences. For those who lose loved ones, the holes in friendships and communities remain. Put together, it's a lot of people: A December 2018 survey sponsored by Everytown found that 58 percent of Americans had some experience with gun violence.
Internationally, the statistics stand out. According to numbers from a JAMA Network study published in August 2018, the U.S. had a gun death rate of 10.6 people per 100,000 in 2016, even higher than the 10.2 cited in the Everytown report. Compare that with 0.2 firearm deaths per 100,000 in Japan, 0.3 in the UK, and 2.1 in Canada.
In fact, per Everytown, as of the first week of February — a scant five weeks into the year — the United States has already seen more gun deaths than other wealthy countries will see all year. It's a milestone that the advocacy group is marking by honoring those who have themselves survived gun violence or lost loved ones with Gun Violence Survivor Week, from Feb. 1 to 8.
This year, Everytown's Survivor Network honored survivors with the Moments That Survive campaign, sharing the stories of those who have been touched by gun violence. Below, three survivors of gun violence tell Elite Daily about the memories that stay with them from their experience.
The following stories have been condensed and edited for clarity.