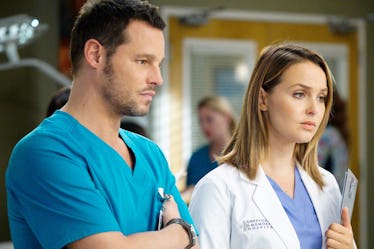 Camilla Luddington Reveals New 'Grey's Anatomy' Season 15 Details About Jo & Alex
ABC
What a fictional married couple on a TV show does after their wedding is usually never that entertaining. While their post-wedding lives might not be too dramatic now, Jo and Alex on Grey's Anatomy still have some intriguing storylines in store for Season 15. According to cast member Camilla Luddington, the couple could potentially have family disturbing their married bliss very soon after their Season 14 wedding. These Grey's Anatomy Season 15 spoilers about Jo and Alex will ease your nerves about the newlyweds possibly facing trauma in new episodes, because it sounds like they're actually in for relatively smooth sailing this year.
Although Luddington couldn't tell TVLine about Jo's long-awaited discovery of her professional speciality, she did reveal that inspiration about a medical breakthrough hits Jo while on her honeymoon with Alex. The timing of the revelation clashes with her new job opportunity in Boston, leading to Jo fighting to stay in Seattle rather than move her life across the country. However, fans shouldn't have to freak about the possibility of Jo and Alex suddenly becoming a long-distance couple. In addition to sharing that she's mostly filmed with Justin Chambers this season, Luddington hinted that she and Chambers will also face their characters' past in a presumingly monumental way, saying:
I have heard that there is a strong possibility that [meeting Jo's parents] will happen this season, which is really exciting. I don't know the context of how they're running into each other, but that's a huge deal for her. And we're going to be seeing a lot more of Alex's family and other family members.
Devoted fans know that Jo's mother abandoned her at a fire station when she was an infant (how very This Is Us of her). As a result, she grew up in several foster homes until she was 16, working intensely to meet academic success and eventually graduate from Princeton at the top of her class. Meanwhile, Alex grew up with a mother who struggled with mental illness while his drug addict father was occasionally violent toward the rest of his family. Alex also lived in foster homes and even ended up in juvie, and like Jo, he's come a long way since his teen years.
When Alex's estranged, schizophrenic mother first appeared in Season 14, Grey's Anatomy essentially reminded us that neither Alex nor Jo experienced happy childhoods, which could make a Season 15 family reunion more tense than heartfelt. Luddington teased to TVLine that because Jo and Alex are so happy together at the start of the season, they're due for some misery, but would a reunion with her long-lost parents really correlate directly to Jo's unhappiness?
If anything, some of this possible family drama could only strengthen Jo and Alex's relationship. However, whatever details about Jo's family that make it onscreen are bound to cause evolution within her character, which inevitably affects her marriage. Nowadays, we shouldn't bother with predicting the ever-twisty Grey's Anatomy, but I certainly have my fingers crossed for Jo and Alex to only appreciate each other more amidst their possible family upheaval.
Season 15 of Grey's Anatomy premieres on Thursday, Sept. 27, at 8 p.m. ET in a two-hour episode on ABC.