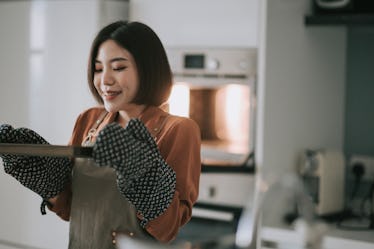 These Girl Scout Cookie Recipes On TikTok Include Faves Like Thin Mints & Samoas
chee gin tan/E+/Getty Images
Girl Scout Cookie season is in full swing, and there's no sweeter time of the year. Now is when you should be stocking up on Thin Mints, Tagalongs, and every cookie you love so much. You might even feel like you have to get as many boxes as you can, because the season will be over before you know it. But, thanks to TikTok, when Girl Scout Cookie season comes to a close, you can still enjoy your favorite treats. That's because there are Girl Scout Cookie recipes on TikTok that'll totally make your mouth water.
Who would be a cooler roomie than you if you surprised everyone in the house with a batch of homemade vegan Samoa cookies or Tagalong bars for your Friday night hangout? All you need to do to turn that situation into reality is to check out these Girl Scout Cookie recipes on TikTok, and head into the kitchen. Not only will you find perfect copycat recipes, but also fun alternatives that take the flavors of your favorite cookies to a whole new level.
With these nine Girl Scout Cookie recipes on hand, you can serve up some Thin Mints with Thin Mint-inspired drinks, or there's a recipe for Tagalong oatmeal to start your day off in a delicious way. Whatever cookies you're craving, you can count on TikTok to help you make a sweet treat.