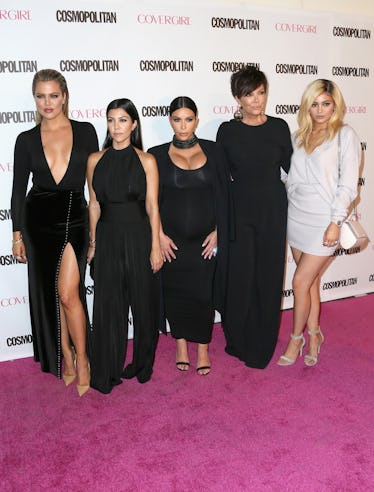 These Are The Most Over-The-Top Gifts The Kardashians Have Ever Received
Frederick M. Brown/Getty Images Entertainment/Getty Images
Valentine's Day was this week, and if you're anything like me, you spent the entire day refreshing the various Kardashian and Jenner sisters' social media feeds to check out their V-Day haul. Because let's face it — these guys know how to holiday better than anybody. Remember that time Kanye surprised Kim with a 12-piece orchestra in the foyer for Mother's Day? I know what you're thinking — so basic. Except not. Because nothing this family does is basic. Like, ever. And that's exactly why we love them. Here's a look back at 11 gifts given to the Kardashians that were completely extra. Prepare to be jelly, guys!
Lets start with the flowers. Because ever since Kim and Kanye welcomed their latest edition, Chicago West, the K-Dash floral situation has been out of control. And this isn't just some ring-up-your-local-florist-for-a-couple-hundred-roses scenario I'm talking about here. These are sculptural works of art that come fashioned in the shape of letters and animals. Some have even been designed to spell out full words
Take a look at this incredible arrangement Khloe sent Kim to welcome Baby Chi to the family. It spells out the new addition's entire name in roses, you guys! I mean, have you ever seen anything so stunningly extra in your life?
I have so many questions. Like, how do you even water this thing? And what are the shipping costs?
Of course, Kim isn't the only sister whose house is currently in full bloom. Check out what took place at Kylie Jenner's place when she finally revealed that she had given birth to a baby girl named Stormi. For starters, baby girl was gifted with her own flowery name sculpture.
She also scored a cool purple butterfly from two people named Ayla and Yris:
And check out this adorable arrangement crafted to look like Hello Kitty:
I'm legit obsessed. I could spend another hour here on flower gifts alone, but since sadly, these arrangements will eventually end up in the trash (unless the Kardashians use some kind of black magic to keep them alive that the rest of us don't know about), let's move on to more long-lasting items.
One of my personal favorites are the two original Marilyn Monroe prints that Kris Jenner gave to Khloé Kardashian for Christmas back in 2016.
So incredible! Those babies are right up there with the hand-painted Hermès bag Kanye gifted to Kim in 2014.
And let's not forget the reported $1 million Lorraine Schwartz diamond choker he gave her as a push present after she gave birth to Saint back in 2015.
And let's not forget the cars.
There was the Bentley Kylie bought for Tyga:
The Ferrari Tyga bought Kylie:
And the orange Moke electric car Momager Kris Jenner bought for daughter Kendall for Christmas 2017:
Of course, Kanye topped them all that very same holiday season, by surprising Kim with stock from a bunch of major corporations like Netflix, Disney, Adidas, Amazon, and Apple.
"So for one of my Christmas presents from Kanye, he gives me this little box with a Disney Mickey toy, Apple headphones, Netflix (and) Amazon gift cards and Adidas socks," Kim explained in a video she posted to Snapchat. "But then, I open the next box and it is stock to Amazon, where he got the gift cards, stock to Netflix, stock to Apple – hence the little headphones — Adidas stock, and Disney stock."
Pretty cool idea. I mean, talk about a gift that keeps on giving! And don't think I didn't notice all those signature orange Hermès boxes in the background there, too!
Happy gifting, Kardashians. Can't wait to see what you all come up with next!