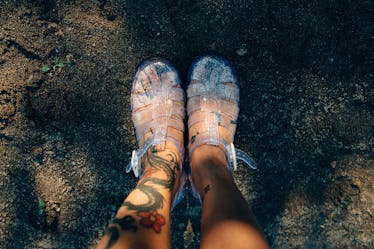 These Foot Tattoo Ideas Will Look So Rad In Your Summer Sandal Pics
The gorgeous weather has finally arrived, ladies. It's time to break out those cute sandals that have been hibernating in the back of your closet all winter long. Let your feet be free just like your carefree attitude this season. You'll be rocking your favorite floral dresses in just about no time, and will be posing for a ton of pics at brunch. With your trendy sandals center stage, you might want to consider some cool foot tattoo ideas.
If you've been wanting to get some ink for awhile now, but aren't sure where you'd like to place it, your foot may be the way to go. Throughout the summer, you'll be wearing flip flops, sandals, and espadrilles that will really showcase your new tat. And if you aren't sure on the design, go with something that's symbolic of the season. Flowers and a summer mantra always make for solid tattoos.
For some inspo, consider any of these seven tattoo ideas. Just you wait, your friends will fall head over heels for all of the pics you take of your fresh tat this season. (Make sure you give your new tattoo the proper amount of time to heal before getting it wet, though, and talk to your tattoo artist about how long you should wait to hit up the beach or pool.)