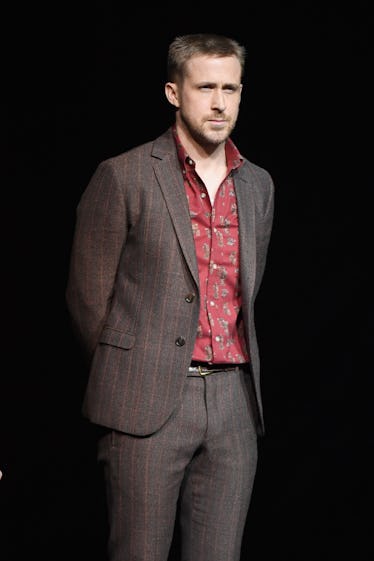 Ryan Gosling Is Starring As Neil Armstrong In 'First Man' & The Pics Are Out Of This World
Ethan Miller/Getty Images Entertainment/Getty Images
Ryan Gosling's career knows no bounds. He can play a struggling LA musician, a gangster, a man in love with a doll — no role seems to be off limits or out of range. Now he's taking one giant leap for his already-impressive resume, portraying the first-ever person to step foot on the moon. These First Man photos of Ryan Gosling as Neil Armstrong provide a sneak peek of the actor's turn as an American icon.
Gosling reunites with his La La Land director Damien Chazelle for First Man, which is slated to hit theaters in October. The film isn't a typical biopic — the story focuses on Armstrong's thrilling journey to space which culminated in the legendary moon landing on July 20, 1969. Screenwriter Josh Singer explained to Collider in April:
This is 100 percent a mission movie. It's about going to the moon as seen through the eyes of the guy who got there. We have at least five major set pieces that are action, and if your heart rate doesn't go through the roof, if you're not gripping the edge of your seat the entire times, I'll be shocked.
People and Universal unveiled the first images from the movie yesterday. A trailer is expected to be released the evening of June 8.
The Crown's Claire Foy plays Armstrong's first wife Janet in the space travel drama. There's a still of the couple embracing one another while dancing. House of Cards' Corey Stoll plays Buzz Aldrin. Kyle Chandler is Deke Slayton.
Although La La Land's musical stylings and tap-dancey love scenes seem antithetical to an edge-of-your-seat lunar mission, Chazelle told People that the versatile Ryan Gosling was at the top of his list for the lead role. He told the mag,
I was fascinated by the psychology of what can drive someone to do what Neil Armstrong did, to physically go further than any human being in history pretty much, in terms of the journey he goes on. I think Ryan is able to capture that kind of drive, that kind of methodical focus, that kind of quiet heroism.
Gosling isn't the first actor to transform into Neil — Scandal's Tony Goldwyn played the Apollo 11 commander in the 1998 Tom Hanks-hosted miniseries From the Earth to the Moon. Jeffrey Nordling (Once and Again, Desperate Housewives) took on the part for the TV film Apollo 11. Mark Wheeler had a stint as the astronaut in Apollo 13.
First Man is based on 2005 Armstrong biography, First Man: The Life of Neil A. Armstrong, which was written by James R. Hansen. The film has in development for nearly 15 years. Clint Eastwood reportedly acquired the rights to Hansen's book in 2003 and was set to direct the project. Chazelle signed on to take over back in 2014 following his success with Whiplash, but prior to La La Land's release and subsequent acclaim.
"I wanted to try to tell the sort of epic space movie [story] but root it very much in family and in love and loss and marriage and parenthood and what those things mean," the 33-year-old revealed to People of his approach to making the movie.
Claire Foy confirmed her involvement last year and expressed her feelings on why it's the right moment to bring Neil's life to the silver screen.
"I think it's just one of those things that it's just enough time has passed that people aren't going to be viewing it, not protectively, but kind of with the idea that... It's very difficult when you make anything about a figure that's doing very well, everybody's got an opinion on how it should be done. I think enough time has passed now for people to just hear the story and see the story," she told Larry King.
First Man blasts off into theaters on October 12, 2018.