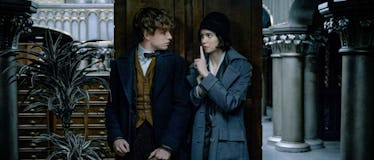 These 'Fantastic Beasts' Sequel Spoilers Will Make You Want To Grab Your Wand ASAP
Warner Bros. Pictures
We're nearly at the four-month countdown until Fantastic Beasts: The Crimes of Grindelwald hits theaters, and we're still quite in the dark of what to expect. By now, we've seen glimpses of a young Dumbledore and a young Newt Scamander in the film's promo footage, but much of the plot is still under wraps and will likely stay that way until the film debuts on Nov. 16. Luckily, Fantastic Beasts stars Eddie Redmayne and Katherine Waterston have spilled some hints about what we can expect from the upcoming film, and these Fantastic Beasts sequel spoilers will have you grabbing your wand ASAP.
According to Entertainment Weekly, Fantastic Beasts: The Crimes of Grindelwald will introduce new characters Leta Lestrange, Newt's possible former love interest, and Theseus Scamander, who is now in a relationship with Leta. Leta is supposedly tied to the reason that Newt was expelled from Hogwarts, so we'll see more exploration of Newt's personal life in Crimes of Grindelwald. Newt and his friends from the first film will veer away from Fantastic Beasts and Where to Find Them's New York setting and visit Paris in a quest to track down Johnny Depp's Gellert Grindelwald. As J.K. Rowling revealed in a 2016 tweet, the franchise will eventually culminate in the year 1945, when Dumbledore defeated Grindelwald. But, on a smaller scale, what can we expect to see in Crimes of Grindelwald?
In their recent interview with BuzzFeed UK, Redmayne and Waterston, who plays Newt's latest love interest Tina Goldstein, answered fans' biggest questions with as much ambiguity as possible, but it's better than nothing. While the casting of Jude Law has made me see Dumbledore in a very different light, Leta's last name definitely suggests that we may see more characters from the original Harry Potter franchise pop up in the Fantastic Beasts series soon. Waterston seemed to confirm that other Harry Potter characters would appear, while Redmayne revealed:
You can [expect them]. There's these sort of lines of connecting families and familiar people and names to the worlds of Beasts and Potter.
Hints of Newt and Tina's romance emerged throughout Fantastic Beasts and Where to Find Them, but just as it would be in the Muggle world, an American-English romance is going to bring these characters more trouble than pleasure at first. It looks like the two will spend a portion of the film apart, but I'm always in the mood for pining lovers. Redmayne told BuzzFeed:
It's desperate because they're sort of pining for each other, but things have gone awry. Part of this film is about them re-finding each other... We were quite excited at the end of the last film. We thought, Oh my god, we're going to get to have a lot of fun working together on this film! And then the script arrived and it became clear that it wasn't going to be that easy. We're going to have to work for this romance.
Of course, Potterheads know that Tina and Newt eventually do get married, but just like it took Ron and Hermione seven books to finally kiss, we'll have to see Tina and Newt face their own strifes before getting together. Despite their happy ending seemingly set in stone, Waterston pointed out that, as actors, they still have to appear as if they have no clue about the characters' futures.
We still have to play it like we have no clue what's happening, though... [The audience] can watch us fail and misunderstand each other and fail again and struggle to come together, and they can think, 'Aw, these suckers. They don't know it, but we know it. It's going to work out.' But maybe [J.K. Rowling is] going to change her mind! Who knows?! She's J.K. Rowling! She can do what she wants!
When you're at your midnight showing of Crimes of Grindelwald, you can also expect to see plenty of Newt's creatures, as well as an initially antagonistic relationship between Newt and his brother Theseus. As we saw in the trailer, Newt also ends up working with Dumbledore. While Dumbledore's mentorship of Harry in the original series had some problematic intentions, it sounds like Newt and Dumbledore have similar enough intentions in beating Grindelwald for this partnership to work out. Dumbledore probably just got shiftier as he aged, right?
Fantastic Beasts: The Crimes of Grindelwald is in theaters on Friday, Nov. 16, 2018.