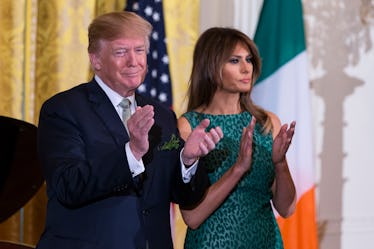 These Donald Trump Quotes About Melania Proves He Enjoys Their Distance
Pool/Getty Images News/Getty Images
Entering politics wasn't the event that triggered interest in President Donald Trump and first lady Melania Trump's relationship. Long before the 2016 election, the two New York aristocrats were the subject of many interviews. And if there's one thing you could tell given Donald Trump's quotes about his relationship with Melania, it's that the pair keep a certain distance from each other.
Take a 2005 interview with Larry King, for example, which remains to this day the most candid interview the pair have given about their relationship. During the interview, Trump said that he and Melania simply don't argue. "We were together five years. We literally have never had an argument or — forget about the word 'fight.' We've never even had an argument," Trump said. "We just are very compatible. We get along."
The key to that peace at home? Trump's says Melania knows his ways, knows what he doesn't like to do, and understands he'll be away from home a lot.
Consider how Trump talked about raising a child with his wife.
"The way I look at it, there's nothing like a good marriage, and there's nothing like having children," Trump told Larry King in that interview over a decade ago. "If you have the money, having children is great. Now, I know Melania, I'm not going to be doing the diapers, I'm not going to be making the food, I may never even see the kids. She'll be an unbelievable mother. I'll be a good father."
And how about building their relationship? "I don't want to have to go home and have to work at a relationship," Trump said. "A relationship you have to work at, in my opinion doesn't work."
On one hand, Trump's quotes aren't surprising, if for nothing else than the fact that he has long been a person who is constantly traveling on business. If a marriage is going to work with a person like that, there's a fair case to be made that a significant other should show some amount of comfort with the fact that they won't see their spouses as much as some might think.
On the other hand, there's the obvious elephant in the room. Report upon report upon report has alleged that Trump has used that distance for — let's just say — not-so-innocent reasons. (Trump and the White House have denied allegations of multiple affairs.)
Here's the thing though, Melania has touted the idea of having a healthy distance in the marriage herself.
"We know our roles," Melania told GQ magazine in April 2016, seemingly endorsing Trump's view. "I didn't want him to change the diapers or put Barron to bed."
In multiple interviews, she's also emphasized having her own life, and not trying to change Donald Trump.
"I give him my opinions, and sometimes he takes them in, and sometimes he does not," she told Harper's Bazaar in February 2016. "Do I agree with him all the time? No. I think it is good for a healthy relationship. I am not a 'yes' person. No matter who you are married to, you still need to lead your life. I don't want to change him. And he doesn't want to change me."
The same month, she told CNN's Anderson Cooper, "We are both very independent — I let him be who he is and he let's me be who I am. I don't try to change him. He's an adult. He knows the consequences and so I let him be who he is. I give him my opinions, many, many times ... I don't agree with everything that he says, but you know, that's his normal."
The examples don't stop there, but the point remains the same. Melania has always highlighted being "independent" and living her "own life," arguably more so than Trump.
What they each do with that distance and independence, however — and whether Melania is OK with it — is obviously a whole other story.