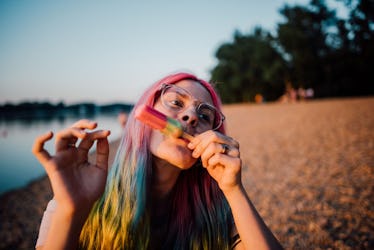 These DIY Breakfast Popsicles Will Make Even The Crankiest Person Fall In Love With Mornings
Some days, the thought of getting out of bed and cooking an entire healthy breakfast from scratch is just too much. During the throes of the summer heat especially, turning on the stove is likely the last thing you feel like doing. If you feel me on a spiritual level here, then DIY breakfast popsicles are the game-changer you're looking for. Not only are they a great (and frosty) treat to look forward to in the morning, but you can throw just about any healthy ingredient into a popsicle mold to make sure your body feels its strongest, too.
If you're still trying to figure out a morning routine that works for you and your schedule, take one worry out of the equation by planning for your tasty breakfast ahead of time. Since you can make these the night (or even week) before, there are no more excuses to skip breakfast, because you can make these bad boys in huge batches.
Even if your idea of a delicious breakfast leans more toward Pop-Tarts or coffee cake than a green juice, you can practically eat dessert for breakfast with these popsicles, all while fueling your body with super healthy ingredients. Fruit and honey combine nutrition and taste, so you don't have to choose between the two. Extra bonus: You can beat the heat without paying a fortune on air conditioning. Here are a few breakfast popsicle recipes to get you started.