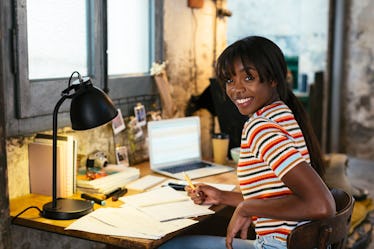 These Disney-Inspired Desk Ideas Will Make Your WFH Setup A Dream Come True
Westend61/Westend61/Getty Images
Spending lots of time working at your home desk area calls for transforming the space into one you enjoy being in. It should accurately reflect who you are and what you love. If your downtime consists of listening to your favorite Disney songs or watching animated classics on Disney+, you're a true Disney lover. That's why some Disney-inspired desk ideas can be a true dream come true for you.
So quit mousing around and take some time to sprinkle a bit of pixie dust on your WFH setup. Just adding several dreamy strings of twinkle lights can help you create a wish upon a star vibe. You can replace your wall hangings with several motivational quotes like Winnie the Pooh's, "You're braver than you believe, stronger than you seem, and smarter than you think". A favorite movie title works as well, such as, The Lion King. Treat yourself to a Disney mug for your much-needed coffee breaks. Don't forget to prepare some Disney-inspired treats occasionally just for good measure, like a homemade Dole Whip float.
You might even want to decorate your entire desk area in all the colors of your favorite Disney princess movie, and a clock to check for when you're close to midnight. You might enjoy "It's A Small World," but think big when it comes to your office inspo. If you need a few ideas, these nine Disney desk ideas are a great start for your happily every after.