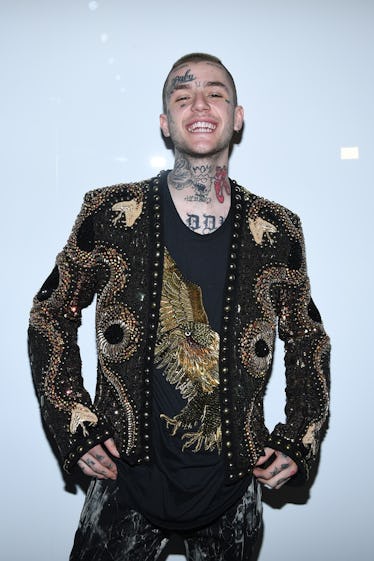 These New Details About Lil Peep's Sudden Death Are So, So Heartbreaking
Pascal Le Segretain/Getty Images Entertainment/Getty Images
The music world suffered a major loss on Wednesday, Nov. 15, when TMZ reported that rapper Lil Peep died at just 21 years old. The star's death came as tragic news to fans. Although little is still known about the rapper's sudden death, new information is still coming in, and recent details about Lil Peep's death are so, so heartbreaking.
According to Perez Hilton, it is suspected the rapper died of a Xanax overdose while on tour. Reportedly, the "Benz Truck" artist went to take a nap before a show around 5:45 p.m., according to his managers. One of the managers reported that she found him breathing and snoring, and left him to sleep a bit longer. Later, a different manager reportedly went to check on him and found him to be unresponsive. Elite Daily reached out to Lil Peep's team for confirmation on the report, but did not hear back by the time of publication.
According to TMZ, the cops reportedly say "several Xanax pills, marijuana, and an unknown tan powder" were found on the tour bus.
Lil Peep (real name Gustav Åh) kept a very strong fan base with his music. His lyrics offered a deep insight into his battles with mental health, addiction, and failed relationships. His sound combined rap with emo music, and it became a sound very unique to Lil Peep. His lyrics were sometimes heavy, but I think that's what kept fans so loyal. For example, the chorus to his song "Let Me Bleed" reads,
Let me bleed, watch me die
I got golden teeth, she got bright green eyes
She's my fantasy, she only comes at night
She don't know 'bout me, what goes on inside
I'll let you feel my pain if you would get me high
Had to make my name, I had to break my spine
Now I'm on my way, I'm just lookin' for pain
B*tches f*ck me the same, it don't matter the place, okay
Sadly, these lyrics take on a much stronger meaning with Lil Peep's passing.
On the day of his death, Lil Peep concerned fans by posting an Instagram photo with the caption, "When I die You'll love me." He then took to his Instagram story and claimed he took six Xanax pills. Lil Peep reportedly says in the video, "El Paso... I took six Xanax and I was lit. I'm good, I'm not sick. I'ma see y'all tonight."
First Access Entertainment has a strong connection to Lil Peep and has worked with him in the past. The company posted a touching tribute to Lil Peep on their website's homepage. Chief Executive of First Access, Sarah Stennett, spoke to E! News about the tragic death. She said,
I am shocked and heartbroken. I do not believe Peep wanted to die, this is so tragic. He had big goals and dreams for the future which he had shared with me, his team, his family and his friends. He was highly intelligent, hugely creative, massively charismatic, gentle and charming. He had huge ambition and his career was flourishing.
Lil Peep's current manager, Mikey Cortez, also wrote a touching tribute to the rapper.
He captioned the above photo on Instagram with,
I'm completely heart broken and lost right now. I can't even feel it's not real. I love you and I'll miss you always. One of the realest. Please someone tell me this isn't real.
Tons of celebrities like Bella Thorne, Charli XCX, Diplo, Sam Smith, Marshmello, and Travis Barker also honored Lil Peep's life with postings on social media.
Obviously, Lil Peep was a big loss to the music industry, and he will be greatly missed.
Check out the entire Gen Why series and other videos on Facebook and the Bustle app across Apple TV, Roku, and Amazon Fire TV.