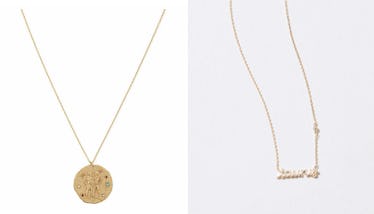 Wear Your Star Power Loud & Proud With These Delicate Zodiac Necklaces
Maje/ LOFT
Thanks to rising temperatures, necklines are dropping and making space for one of my favorite jewelry trends of all: tons of dainty charm necklaces layered on top of another. From nameplates to plain chains, the styles already in my collection are vast, and this summer, delicate zodiac necklaces will finally get to join in on the fun.
I am certainly not someone who takes my horoscope to heart (or tarot readings, natal chart readings, and the like, for that matter), but that's not to say I don't still read it every now and again in hopes it'll tell me something amazing about my upcoming month. Having those little seeds of predicted occurrences — making a new lifelong friend, becoming more financially secure, meeting a new love interest — in the back of my head allows me to be more open to them. It also allows me to interpret things that actually happen to me in different ways that might fit into said predictions, so why not plant them?
As a Leo, my horoscope often involves themes of passion, loyalty, optimism, and kindness, but also of egoism, arrogance, and drama. These are the traits associated with my personality, and while I certainly don't think they all apply to me on a day-to-day basis (I'm talking about the last three, obviously), I'm still able to see how they do come into play with my personality overall. So, I figure, why not honor the lioness inside of me with a Leo necklace or two? Plus, zodiac signs, both in constellation and symbol form, tend to look pretty cool and can be great conversation starters.
Below, I picked out some stellar, delicate zodiac necklace options that are available in all 12 signs.
Double Trouble
I love this one for the fact that no matter what side the pendant is flipped to, your zodiac sign will be displayed proudly. It's simple, stylish, and the perfect layering piece.
Great Lengths
This necklace is another twofer, but in a very different way. It comes with two pre-layered chains, each featuring their own star-specific charms, meaning you can throw it on and already by halfway done with your accessorizing.
Life in Color
This might be my favorite selection of the entire bunch... I am a sucker for anything involving rainbow and glitter. It also has a slightly vintage look to it, so, sold.
Silver Linings
If your style is minimal and chic, this option might be for you. This Etsy seller creates sleek necklaces featuring your zodiac symbol with a twist as a charm. This, with a nameplate necklace, would look understated and cool.
In the Stars
If you don't want someone to know your sign right away, this option is perfect. It features the constellation that corresponds with your zodiac, making it a super dainty option that also packs a mysterious punch. It's a great conversation starter and also has a bit of glam thanks to the crystals.
Spell it Out
...And if you want to wear your zodiac sign loud and proud, here's your necklace! It features a beautiful looped font and minimal design — why not layer it with that nameplate necklace you have?
Far Out
This is another beautiful option from an Etsy business. (Supporting small businesses is cool!) It features a circular pendant engraved with your zodiac constellation, and is another style that boasts a subtle elegance. I'd layer this with a few other charm necklaces that hang further up on the collar bone. A black blouse with a deep V-neck would be the perfect look.