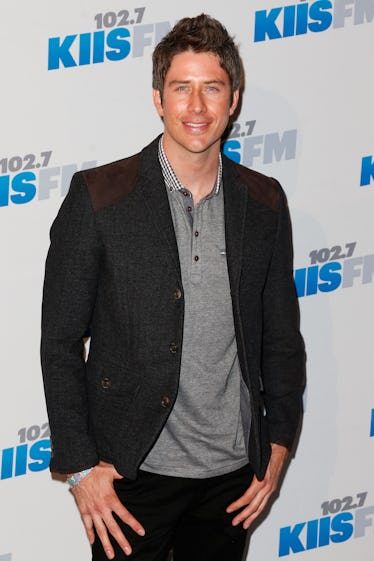 'Bachelor' Arie Just Gave Some Serious Clues On Who Won His Final Rose – VIDEO
Imeh Akpanudosen/Getty Images Entertainment/Getty Images
Our latest Bachelor, former race car driver and now-realtor Arie Luyendyk Jr. is pretty much sworn to secrecy about what unfolds on his season, which premiered on Jan. 1. After the cameras stop rolling and the mansion closes its doors, he has to spend months remaining silent about who and if he chose to be his future bride. But that whirlwind press tour makes this whole keeping mum thing even harder. People like Jimmy Kimmel are trying to squeeze the spoilers out of him, and we don't mind. Because the clues about who won's Arie's Bachelor season make the journey to that final rose that much more intriguing.
Oh, Arie. You had one job! OK, not exactly, but you are supposed to remain closemouthed and unreadable during an inquisition. Such has not exactly been the case, even though you're trying.
Arie hit Jimmy Kimmel for an interview on Jan. 2 and of course, the talk show host (whose wife Molly happens to be a Bachelor superfan) didn't hold back, cross-examining him about the results of the show. Arie did his best to avoid any signs of definitive responses, but answering without actually answering isn't the easiest task. One questionable head tilt and #BachelorNation starts buzzing.
"It was an amazing experience ... I did fall in love," Arie was able to admit to the Jimmy and America. He also reiterated the news that he fell for not one, but two women during the experience.
Jimmy proceeded to reveal he and his wife's picks for the final four. We like your style, Kimmel.
Weiner, Arkansas' own Tia was first on his list. "You won't pick Tia, but you will keep her around for a while," he said. Arie's reaction? A few nervous looking eye movements and a shrug.
The next choice ended up being way more telling on Arie's end. Jimmy brought up Chelsea, who he guessed would "clearly be the villain." "You won't pick her, you'll just keep giving her roses so she can antagonize everyone else in the house. Chelsea!" Arie then shook his head no before offering up his signature shrug, which was met by the audience's exclamation. Are you trying to tell us something (by accident), Arie?
Kimmel's next pick was Bekah. Survey says? More shrugging.
But next up was his prediction for who would win it all: Becca K. Jimmy's reasoning was as follows,
Despite a weird start, making you get down on one knee… you liked her. She seemed to be the most kind of normal. Mo major red flags. You seemed into her when she was reading questions from her mom, and pretending her mother is interesting, I mean — that's a big thing to do. You gave her the first rose in the rose ceremony which means she's probably the only whose name you remembered right off the bat.
Fair enough hypothesis. Arie did his best to sustain a collected stare and then went into shrug/laugh mode.
But even without Kimmel's grilling, it's not easy to keep things under wraps. Arie recently spoke to PEOPLE about making that tough final decision, considering he and love for two of the ladies by the end. "I didn't know I was capable of that ... I've never been in that situation, and it was really hard. And they were two very different women, and that's what made it even harder," he explained.
You don't say... "Two very different women" is a possible hint #BachelorNation might keep in their back pockets as they get to know the ladies better.
Well, reality TV fans everywhere have their eyes on you, Arie. Cheers to an exciting season ahead.