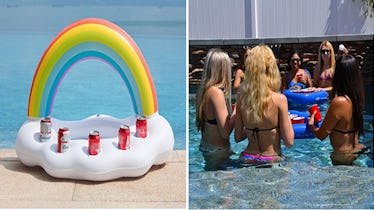 These Clever Products On Amazon Under $25 Will Make A Splash At Your Pool Bash
The temps are heating up, and soon enough, it'll be time to dust off your inflatable pool floats and cute sunnies. The warmer months are meant for lounging poolside with your best friends, and if you're planning on hosting a bash to commemorate the beautiful weather, a few staple things on Amazon under $25 will make your pool party one for the books.
Playing with different themes is a must. You should already know how much your girlfriends will be game for a clever theme, especially if they love to do it for the 'Gram. Besides, after this cold winter, everyone is more than ready to be outside basking in the sunshine. You'll give them another reason to kiss those sweaters goodbye and participate in a little poolside fun.
Unfortunately, your wallet isn't always as hyped up as you when it comes to party planning — but you can still think big, because balling on a budget won't cramp your style one bit. All it takes is a little surfing of the web before you hop on that boogie board. Adding any of these items to your shopping cart on Amazon will keep your wallet happy and your party extremely Instagram-worthy.