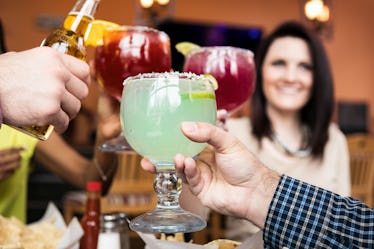 You Can Score A $1 Margarita When You Get In On These Cinco De Mayo Deals
Sean Locke/Stocksy
It is officially May, folks, which means Cinco de Mayo is right around the corner. Whether or not you have celebration plans lined up, these Cinco de Mayo 2019 deals on May 5 will give you a good excuse to shop, get discounted food, and snag some goodies on this annual Mexican celebration. From beer delivery to endless appetizers, these Cinco Dee Mayo deals will give you a good excuse to party all day.
But first, some history, Cinco de Mayo, which is frequently confused for Mexican Independence Day, is a holiday that celebrates the Mexican army's victory over France at the Battle of Puebla during the Franco-Mexican War in 1862, per The History Channel. In Mexico, the day is celebrated with military parades, battle recreations, and various other festivities, but the celebrations have also made their way to the U.S. According to The History Channel, Chicano activists brought awareness of the holiday to the U.S. in the 1960s, almost a century after the Battle of Puebla. Today, celebrations include parades, parties, mariachi music, Mexican folk dancing, and traditional Mexican foods. Some of the largest Cinco de Mayo festivals are held in cities like Los Angeles, Chicago, Houston and other places with large Mexican populations.
With all that in mind, here are 10 deals that will help you celebrate this important day.