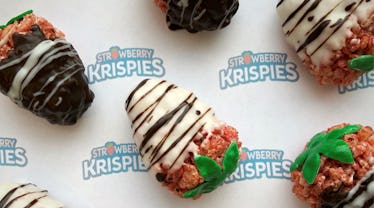 These Strawberry Krispies Treats Are Dipped In Chocolate For A Decadent Valentine's Day Snack
Courtesy of Kellogg's
From chocolate wine to heart-shaped cheeses, there's no shortage of tasty treats you can get down with on this Valentine's Day. Kellogg's is getting in on the fun with these chocolate-dipped Strawberry Krispies Treats. The sweet goodies will only be available for a limited time in New York City. But what about the rest of us who don't live in NYC? You're in luck because these strawberry chocolate treats are easy to make at home.
In January, Kellogg's launched a brand new flavor of Rice Krispies cereal. Strawberry Krispies is the first new Rice Krispies flavor in more than 10 years, according to Kellogg's. The cereal is making its debut just in time for Valentine's Day. This year, the holiday takes place on Thursday, Feb. 14. If you're interested in trying these and live in New York City, you'll have a chance to do just a few days before Valentine's Day. On Monday, Feb. 11, Kellogg's will be selling the chocolate-dipped Strawberry Krispies Treats at the Kellogg's Cafe on East 17th Street, near Gramercy Park. The shop opens up at 9 a.m. and closes at 6 p.m. It would behoove you to get there closer to the start of the day, as the treats will only be sold while supplies last. A two-pack of chocolate covered strawberries will cost $5, according to Kellogg's.
If you don't live in New York City, or you just want to make a batch at home, the recipe for chocolate-covered Strawberry Krispies Treats is fairly simple to follow. First, you will need to build your grocery list. Here are the items you'll need to recreate the heart-shaped treats, per Kellogg's:
3 cups of Kellogg's Strawberry Krispies cereal
2 cups mini marshmallows
1.5 tablespoons of unsalted butter
Green fondant or pliable green candy taffy strips to create the stem
A half cup of dark chocolate candy melts
A half cup of white chocolate candy melts
1 tablespoon of coconut oil
You may have a few of these ingredients hanging out in your pantry already, so be sure to check before you head to the store. You can find Kellogg's Strawberry Krispies cereal at grocery stores nationwide and anywhere else Kellogg's products are sold. I found this family-size box of Strawberry Krispies on sale for $3.50 (regularly $3.99) at Target. The recipe makes 12 servings of chocolate-covered Strawberry Krispies Treats. If I were you, I'd make a double batch because YUM. These goodies are going to go fast. You could easily whip these up real quick and give them as gifts to your girlfriends on Galentine's Day (that's Wednesday, Feb. 13 if you didn't already know).
I love the attention to detail on these fruity treats. When mushed together, the pretty pink strawberry cereal pieces look so much like actual strawberries to me. Plus, that green stem is really something extra. To top it off, the strawberry cereal treats are dipped in dark chocolate and white chocolate and finished with a drizzle of each. TBH, chocolate-covered Strawberry Krispies Treats sound just as delicious as the real deal and I can't wait to throw together a tasty batch of the strawberry-flavored sweets.