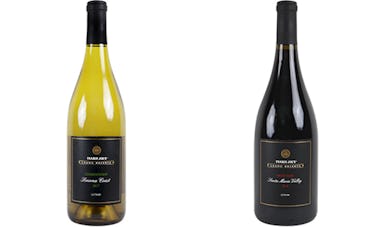 Trader Joe's Has The Perfect Sip In Store For You This Holiday Season
Aside from putting together the perfect Thanksgiving menu and cleaning out your entire house or apartment, finding an impeccable bottle of wine for your annual Turkey Day meal is absolutely vital. While it may be a little bit tempting to spend big on a cute label or on a fancy brand, though, Trader Joe's offers tons of delicious (and shockingly low-priced) wines. So, if you want to find a ridiculously tasty sip that won't actually break the bank, make sure to check out each and every one of these cheap wines from Trader Joe's for Thanksgiving 2018. I swear you won't regret it, and I can almost guarantee that your guests will be pleased as punch.
Whether you happen to be looking for a deep and dry red, a light and fruity white, or an undeniably fun bottle of bubbly, Trader Joe's seriously has everything you could possibly ask for. Their wine store shelves are totally stocked with basically anything you might be looking for, and most of their inventory is cheap enough that you can get several bottles at a time guilt-free. The bottles below are just a few of my favorite sips that you'll be able to find at TJ's, and they should complement your Thanksgiving meal beautifully. Check 'em out.