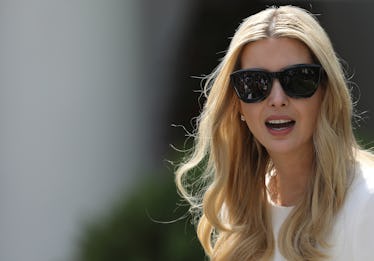 These Celebs Have Trolled Ivanka Trump On Twitter & It's Next Level Shade
Win McNamee/Getty Images News/Getty Images
Social media does so much good for the world, and trolling the Trump family is just one of its many wonderful attributes. Even though Donald Trump gets the brunt of the attacks on the internet, these celebrities have trolled Ivanka Trump on Twitter for months. So much shade, so little time.
Ivanka Trump might not quite be the mega-controversial figure her father, Donald Trump, is, but the first daughter has also been the subject of scrutiny since daddy dearest took office in January 2017. Trump is arguably the most politically involved first daughter in White House history, and throughout her father's campaign she promised the nation that he would make changes that we have yet to see happen, such as paid family leave and fixing the gender pay gap. In the beginning it looked like she was just warming up to her new White House role, but it's been her compliance on a number of controversial Trump decisions, such as his fight to defund Planned Parenthood and the recent separation of immigrant children from their families at the border, that has seriously upset a number of people, including activists, politicians, and even celebrities.
Well, to probably very little surprise, there's a few familiar faces that have actually been completely trolling Ivanka Trump on Twitter for months. Without further ado, here's the best of the best.