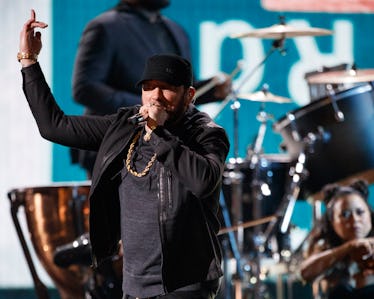 These Celebrities Had The Same Reaction As You Did To Eminem's Oscars Performance
Craig Sjodin/Walt Disney Television/Getty Images
The Oscar nominations for 2020 raised a few eyebrows when they were announced in January. For one thing, no female directors were nominated for Best Director despite a record number of films made by women. Moreover, there were very few nominees of color despite there being several eligible movies (and more than a few actors and actresses behind them). Eyebrows also shot up when Eminem surprised the Oscars audience with a performance of "Lose Yourself" during the broadcast. The celebrity reactions to Eminem's 2020 Oscars performance suggest they were just as bewildered at his appearance as everyone at home.
It was a supremely odd juxtaposition. The lead-in was about how music and films can become intertwined. Several perfectly normal candidates from award-winning films were shown, including Rocky, the 1977 Best Picture winner. And then, instead of going with the obvious choice, the Oscars brought out Eminem, who hasn't been relevant in the Oscars world about a decade.
But it wasn't just those tweeting along at home who thought this to be a random throwback choice. The celebrities in the audience looked befuddled when they didn't look outright irritated. (Or in the case of Martin Scorsese, like he would like to be anywhere else.)
Idina Menzel attempted to nod along gamely, but she too seemed to have no earthly idea what just happened.
And of course, Billie Eilish, who has never been shy with her opinions or face, looked like someone might as well have wheeled out Van Halen.
On the other hand, there was one actress who looked like a surprise Eminem performance was part of her dream Oscars: Brie Larson.
And there were a few headbangers in the audience as well.
But mostly, the sense was that this was not the correct decision to have made this Oscars year.
On the one hand, having a hostless Oscars meant that the show could get experimental. In some cases, the choices of musical guests were been impeccable. Janelle Monáe, for instance, created a great opening number. And Utkarsh Ambudkar (from The Mindy Project), who did a freestyle recap of the first part of the Oscars just after Eminem's performance, was another fantastic choice. But in my opinion, this one fell flat.