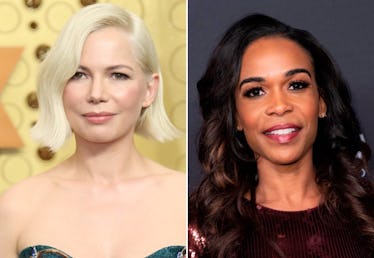 These Celebrities Have The Same Name & It's Downright Confusing
Dan MacMedan/WireImage/Getty Images; VALERIE MACON/AFP/Getty Images
Names are a funny thing. While some are unique on every level, others are beautifully common, leading to a lot of run-ins with people who have the same name. Many celebrities are known to modify their name, or even take a stage name when they become famous — and for good reason. Katy Perry, born Katheryn Hudson, could have easily been mistaken for Kate Hudson if she kept her birth name (that's actually not the reason she swapped her last name — but more on that later). That's right, Katy Perry and Kate Hudson are two celebrities who share the same name.
Imagine starting a new job and finding out your co-worker has the exact same name as you. Yep, both first and last name — how confusing. Now, think about trying to break into the entertainment industry and being confused with an already-super-famous actor or musician who just so happens to share your first and last name. Not fun.
So what do Mark Wahlberg, Chris Evans, and Randy Jackson all have in common? They — along with a few other celebs — have famous name twins. Scroll down to see seven celebs who share the same name as other celebs.