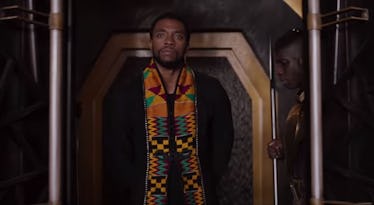 This Clue In The New 'Black Panther' Trailer Reveals More About T'Challa's Fight
Marvel
It's only two months until the next Marvel film, which may be *the* most anticipated film of the first half of 2018: Black Panther. This final installment ahead of Avengers: Infinity War will take audiences to the fictional world of Wakanda, where T'Challa (played by Chadwick Boseman) has recently become king after the tragic death of his father in Captain America: Civil War. Marvel has already released two full-length trailers, and for Christmas, they released the first full TV spot. This Black Panther trailer has clues that suggest our newest hero has big problems ahead.
Like most TV spots, this trailer doesn't introduce new music. (Though, word is Kendrick Lamar has come aboard the already banging soundtrack.) Nor does it have a ton of new footage. Like most 30-second spots, a good two-thirds of what's included is images remixed from the first two trailers. But, there are new images of Boseman as the Wakandan King, as well as shots of Lupita Nyong'o as Nakia, his love interest in the film, being a badass undercover operative of the Dora Milaje behind the wheel.
It also has new images of Michael B. Jordan as Erik Killmonger, yelling that he's coming to burn it all down, and that's where things get interesting.
When the second Black Panther trailer came out in October, it was just only a couple of weeks ahead of the arrival of Thor: Ragnarok, and some fans were more interested in how these two films might tie together heading towards the major showdown in Avengers: Infinity War.
The arrival of the trailer for *that* film just after Thanksgiving also refocused the attention on Wakanda with an eye on how it will tie into the larger picture. This is understandable, as there was quite a few scenes in Wakanda in the trailer. And the two-part Infinity War movie is the culmination of everything the Marvel Cinematic Universe has been working towards since they released Iron Man in 2008.
But fans need to make sure they don't sleep on the present day actions that are happening in Wakanda in this film, instead of constantly looking ahead to the future. Yes, Avengers watchers highly suspect there is an Infinity Stone in the country (which, by process of elimination, would be the Soul Stone), and that said stone may in fact be the engine that drive's Wakanda's amazing afro-futuristic technology. But that's the least of T'Challa's problems when he gets back from New York City and his work in the United Nations.
Our latest superhero has a rival for the throne, someone who thinks that just because an accident of birth made T'Challa the son of the last king doesn't automatically make him fit to rule. Eric Killmonger is a Wakandan exile, but he's not a villain in the traditional sense of the word. Instead, he's a polar opposite. Speaking to MTV, Jordan likened the relationship between his character and T'Challa to another, more famous Marvel rivalry.
The best way to describe him and T'Challa's relationship is Magneto and Professor X. He's not afraid to take a life.
The earlier trailers have made Killmonger into an angry villain, a man trying to take down those who threw him out, etc. There's been lots of footage of him disguised in a tribal mask, blowing things up. This footage is also included in the TV spot as well.
But we also get a good look at Killmonger out of his street clothes and back home. (Those ritualistic looking tribal bumps on his torso are inspired by the scar tattoos of the Mursi and Surma tribes, by the way.) And from the glimpses we're seeing of him on Wakandan soil, it looks like any talk of Infinity Stones will have to wait. First, T'Challa has to face his own tests, survive, and rise as king.