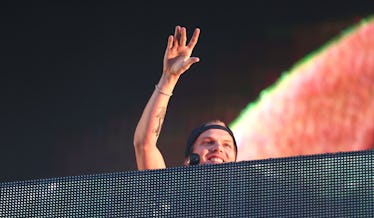 These Avicii Quotes Show How Passionate The DJ Was About Music
Tim P. Whitby/Getty Images Entertainment/Getty Images
Swedish DJ Avicii was confirmed to have died on Friday, April 20, per reports. The music world is in shock over the death of the producer and DJ, and it's not hard to understand why. These Avicii quotes show how passionate he was about music.
Avicii passed away at the age of 28, his publicist said, per Billboard. "It is with profound sorrow that we announce the loss of Tim Bergling, also known as Avicii. He was found dead in Muscat, Oman, this Friday afternoon local time, April 20th. The family is devastated and we ask everyone to please respect their need for privacy in this difficult time." Avicii's work, played in clubs worldwide, has had a massive impact in the world of electronic and dance music.
Though his publicist's statement didn't mention a cause of death, Bergling had suffered from long-standing health problems due to pancreatitis, according to Billboard. He had his gallbladder and appendix removed in 2014 and retired from touring entirely in 2016.
It's clear that Avicii's passion was always music. The Swedish producer told Elite Daily in a 2012 interview that his commitment for music-making was already well developed by the time he was discovered. He said:
I was definitely very focused already, I was already really driven, and spending almost 24 hours a day working on music ... I was really dedicated.
Though the touring path wasn't the ideal one for him, Avicii seemed to be pretty content with his life as an artist otherwise. He told Elite Daily:
I just feel so happy that I'm one of the few people who can actually say that I love what I'm doing. To have gotten to the point where I'm at today, it's amazing. I still can't believe it.
In a 2016 interview with The Hollywood Reporter, Bergling explained his reasons for quitting the tour circuit, saying,
The scene was not for me. It was not the shows and not the music. It was always the other stuff surrounding it that never came naturally to me. All the other parts of being an artist. I'm more of an introverted person in general. It was always very hard for me. I took on board too much negative energy, I think.
He also spoke about his journey as a full-time touring artist, which began at the tender age of 18.
When I look back on my life, I think, 'Whoa, did I do that?' It was the best time of my life in a sense. It came with a price — a lot of stress a lot of anxiety for me — but it was the best journey of my life.
In an interview with Rolling Stone in 2017, Bergling expressed that the EDM scene, with its party culture, had the tendency to become "toxic" in his view. "I'm still traumatized," he told the magazine, saying he hadn't been to any live shows in the previous year. "But I'm sure I will again. I've started being able to listen to music again, getting a little bit of that joy back." Quitting touring, he added, allowed him to focus more on creating.
Now that I have more time in the studio, I want to learn as much about other genres as possible. That's what I love the most — having a session with Nile Rodgers, for instance, and getting an understanding of music that's invaluable.
"I will however never let go of music — I will continue to speak to my fans through it," Avicii wrote in a pair of tweets from August 2017. "I will never stop making music."
The Swedish producer and his passion for making music will be missed.