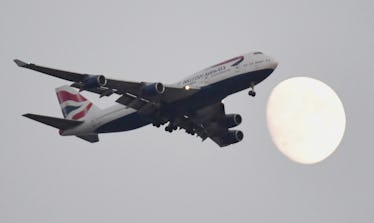 These Cheap Airlines To Fly In the U.S. Will Give Your Wallet A Break
Ethan Miller/Getty Images News/Getty Images
I know, I know, you're way too busy to sit and scour through all the airlines' websites, but you really want to find a cheap one to travel with to get to your spring break destination (or anywhere, really). After all, airline tickets might just be one of the biggest factors in planning a trip: if a ticket equates to one month's rent for me, it's out of the question. Though those kinds of prices are usually deal breakers, the good news is that some of the cheapest airlines to fly in the U.S. make it possible to find prices within my price range (and probably yours, too).
Spring break is such a big deal because it's the prelude to summer. You're supposed to travel with friends, explore nature, and party on the beach while sipping refreshing piña coladas or hoppy beers (if you're 21 of course). But upon browsing through the prices of airline tickets and checking the balance of your bank account, those plans can be soiled in seconds if you don't know what you're doing. Luckily for you, I've compiled a list of the cheapest airlines you can fly to ensure that you have the most epic (and affordable) spring break of your life.
Virgin America Airlines
Virgin America has topped Travel + Leisure's best domestic airlines list for the past nine years. For an airline that's only been in business since 2007, that's a pretty big feat. MONEY also wrote that the average price of roundtrip tickets is only $164, and in addition to that (as if you needed another excuse), their planes offer Wi-Fi, mood lighting and other cool features. The catch? The airline was bought out by Alaskan Air, so April 24 is the last day you can book a ticket for.
JetBlue
JetBlue offers free WiFi — aka Fly-Fi — free DirecTV, extra legroom, unlimited potato chips, delicious chocolate chip cookies, and other comforting amenities. The average roundtrip price in 2017 was just $159, per MONEY.
Southwest Airlines
Southwest Airlines offers great deals with tickets in the double-digits all the time, meaning that they're a great option to keep an eye on for a flash sale (though as quick as these sales go, you've gotta act fast). And did I mention they offer complimentary snacks and up to two checked bags? You'll make up for any extra you might spend on the ticket with all the freedom of another bag to bring home souvenirs.
Spirit Airlines
According to Spirit's website, the company's fares are 30 percent less than other airlines. If you're a part of their fare club, tickets start as low as $25 one-way and $50 otherwise. Typically, you're only allowed to bring a small carry-on item, but you can check bigger bags for prices as low $30 as long as you pack light. Though entertainment or snacks aren't offered, at least the price makes up for it. Right?
Hawaiian Airlines
In 2017, Hawaiian Airlines placed at No. 4 on Travel + Leisure's best domestic airlines list, landing a score of 78.55. If tropical destinations are your thing, Hawaiian Airlines offers affordable flights to places like Oahu, Hawaii, Molokai, Hawaii and more, with rates between Los Angeles and Kauai in the $350 range.
American Airlines
According to MONEY, the average roundtrip price of a ticket with American Airlines is $227, but if you're lucky, sometimes you can catch some of the most amazing, budget-friendly tickets.
Frontier Airlines
Depending on where you're flying from, between March 6 and March 24, Frontier Airlines will be offering one-way tickets for as low as $20. Though the fares only include one personal item, at prices that low, you can easily toss in a few extra bucks for additional luggage or snacks.
With six potential airlines that are budget-friendly, the possibilities of booking an epic spring break seem endless, right? Just make sure you don't get too comfortable while you're away and decide to stay. Happy traveling!