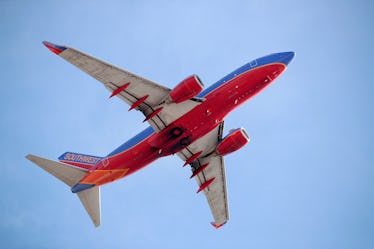 You Can Score Plane Tickets For Under $50 Right Now, But You Have To Act Fast
Scott Olson/Getty Images News/Getty Images
Wanderlust hitting you hard? As winter comes to a close, it's time to celebrate the new spring season with a much-needed vacation. Lucky for us, Southwest Air's flash sale has tickets for under $50 across the country. Better act fast though, because this special ends at 11:59 p.m. on Feb. 1.
One-way tickets start at $49, but prices differ based on both the departure and arrival destination. Eight routes offer $49, while other routes cost as much as $205 for the one-way trips. The availability of the cheap flights varies depending on the departure city, which span the country. The general window consists of Feb. 20 through May 23 for domestic flights, and April 3 through May 17 for trips to San Juan, Puerto Rico — but there's a catch. In order to score one of these once in a lifetime deals, you've got to book your ticket by 11:59 p.m. on Feb. 1.
The departure cities offering the most available routes include Atlanta, Georgia; Baltimore/Washington, Maryland; Chicago (Midway), Illinois; Denver, Colorado; Houston (Hobby), Texas; Los Angeles (LAX), California; Oakland, California; and St. Louis, Missouri. For those in California, Southwest is also offering round trip flights from Oakland to Long Beach, and vice versa, for under $100.
What makes this deal unlike other offers from discounted, budget airlines? The perks. Southwest Airlines' flash sale includes a free checked bag as well as a carry-on.
Start packing, seasoned travelers and Instagram influencers!
Not only does Southwest offer unbeatable prices across the country, it also helps out with worthy causes. On Jan. 20, Southwest Airlines teamed up with Lucky Dog Animal Rescue to rescue a number of dogs and cats following as part of hurricane relief efforts in Puerto Rico. Linda Rutherford, chief communications officer for Southwest, released a statement detailing the excursion.
She said,
The devastation that Hurricane Maria caused the communities of Puerto Rico is heartbreaking. Our employees are eager to lend a hand in bringing relief to San Juan by partnering with D.C.-based animal organization, Lucky Dog Animal Rescue, and Puerto Rico Animal Relief organization, PR Animals, in transporting dozens of impacted animals to the D.C. area in hopes of finding their forever homes.
Mirah Horowitz, the executive director and founder of Lucky Dog Animal Rescue, also expressed her gratitude for Southwest's help following the San Juan devastation.
She said,
We are incredibly grateful to Southwest for partnering with us to make this flight a reality. This flight will literally save lives, both of the animals who are transported to D.C. as well as to those who remain on the island and need the supplies we are bringing.
In addition to rescuing some adorable pooches, the flight also delivered more than 14,000 pounds of supplies for Puerto Rico.
Can't seem to decide where your next destinations should be? Look no further — Elite Daily got the full scoop on where and how to travel on the cheap in 2018. In fact, CheapAir.com CEO Jeff Klee spoke to Elite Daily about how he compiled his top 10 cheap travel destinations, factoring in major airports, destinations, and budget accommodations.
He says,
Flying mid-week and in the off-season will offer best value for money overall. To keep costs down, the best advice is always to avoid high season, wherever you travel. For example, shoulder season in Europe (March to April and September to October) will often give you deep discounts on flights and accommodation, and can be a better time to have a relaxing vacation. You should also keep in mind local festivals and holidays that might impact overall cost, limits on business hours, and numbers of tourists you can expect to encounter.
Take notes, kids, for when you're booking that ticket. Vacation is so much better when it's budget friendly. Happy flying everyone!