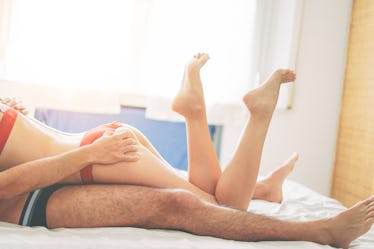 If You Love Being Playful In The Bedroom, You're Probably One Of These 4 Zodiac Signs
To me, nothing beats a sex sesh that's just plain fun. Sure, passion and intensity are hot and definitely have a place in my heart, but when it comes to the lovers I remember most fondly, they were always the ones who didn't take themselves too seriously and genuinely seemed like they were having a great time. If that sounds familiar, then chances are you either are, or have been with, one of the most playful zodiac signs in the bedroom — the ones who know how to keep it light and fun when it comes to sexy time.
These signs tend to be the ones who generally approach life with a lighter, less serious perspective. These are also signs who enjoy a good laugh, including at themselves. They are confident, charismatic, and curious; they like to seek out new experiences, and are generally just easy-going people. In other words, who they are in the world is not all that different to who they are behind closed doors. Does that sound hot? Because it is. Honestly, giggling and just having fun getting up close and personal makes for some incredible foreplay. As for the sex itself, well, just because these zodiac signs are playful, that doesn't mean they're playing around.