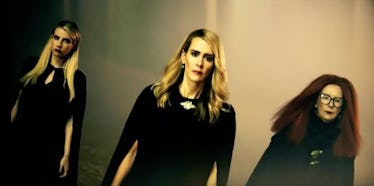 These 'American Horror Story' Group Costume Ideas Are Much Easier Than You Realize
FX/YouTube
There isn't a show out there quite like American Horror Story, especially when it comes to Halloween inspo. The spooky anthology series has introduced so many creepy characters over its eight seasons that it's become hard to keep track of every player and their wicked ways. From witches to clowns to two-headed sideshow performers, the dress-up possibilities are seemingly endless. If you're looking for American Horror Story group costume ideas, channeling your fave character combos from the series is probably easier than you think.
If AHS had a signature motto regarding its style, it would probably be: "Nothing is off limits." The show isn't afraid to take risks in the fashion department, even when they appear to make no sense. Wigs are just as essential to the series as making people scream. The outfits are out there. The masks are usually terrifying. I can't imagine AHS without its unique costume design. The clothes help make the show! There was even a museum exhibit at the Paley Center devoted to showcasing the series' unforgettable wardrobe. Want to craft some of the most memorable looks from the show's current season this Halloween? Grab your own personal coven and make the magic happen.
Mallory, Coco St. Pierre Vanderbilt, Dinah Stevens
BLESSUME Women Rococo Marie Antoinette Dress Costume, From $32, Amazon
Hibuyer Medieval Renaissance Princess Outfit, From $45, Amazon
Welkomdream Womens Overall Midi Dress, From $20, Amazon
Framed Spring Temple Clear Lens Eye Glasses, $8, Amazon
Despite their demises, three of Apocalypse's Outpost 3 participants do not appear to be going anywhere for good any time soon. Although much of their true selves are still shrouded in mystery, their outward appearances aren't too difficult to pin down. While "purples" Dinah and Coco are afforded opulant gowns, Mallory rocks a grey pinafore and her statement glasses. Just make sure to do their over-the-top hairdos justice.
Cordelia Goode, Madison Montgomery, Myrtle Snow
Maxi Dress with Cape, From 15, Amazon
Windproof Travel Umbrella, $13, Amazon
The witches are back! Madison (Emma Roberts), Cordelia (Sarah Paulson), and Myrtle (Frances Conroy) have found their way back to AHS for this season's crossover extravaganza. Pro tip when trying to capture Coven's essence: capes are your friend and black is the new black. These ladies aren't into prints. Accessorize with umbrellas for nostalgia's sake if you're going for a Season 3 Coven throwback. If it rains, you'll be prepared.
Michael Langdon, Ms. Venable, Miriam Mead
Blonde Mixed Golden Highlights Wig, $17, Amazon
Bellonesc Silk Scarf, $15, Amazon
Womens White Victorian Floral Lace High Neck Shirt, $16, Amazon
Belle Poque Womens Gothic Steampunk Tail Jacket Coat, From $34, Amazon
14 inch LED Candelabra, $15, Amazon
Women's Button Down Jacket Long Sleeve Jacquard Blouse, From $25, Amazon
Liquid Matte Lipstick, $12, Amazon
If you want to add Michael Langdon (Cody Fern) into the 2018 Halloween mix, I don't blame you. The luscious-locked Cooperative agent is at the center of Apocalypse. He's got a polished look that can only be described as satanic glam. Ms. Venable, also portrayed by Sarah Paulson, had a buttoned-up Victorian thing going on. The robotic Ms. Mead (Kathy Bates) kept things pretty simple.
Happy haunting, everyone!