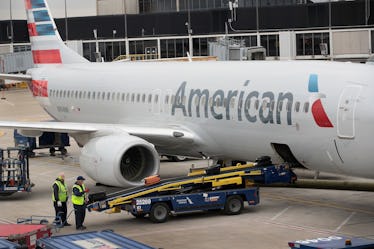 These Airlines Are Refusing To Fly Kids Separated From Their Parents At The Border
Scott Olson/Getty Images News/Getty Images
Doesn't it seem like everyone is opposing President Donald Trump's immigration policies? From activists rallying up against his administration's latest "zero tolerance" policy to celebrities using their platforms to call him out over it, there's a lot going on. But the most surprising twist amid all the outrage is that airlines are rejecting carrying children separated from their parents at the border. And I want to give them a standing ovation.
American Airlines, Frontier Airlines, Southwest Airlines, and United Airlines have all issued statements denouncing the policy, which permits the separation of immigrant families at the United States' southern border, and vowed not to transport children that have been isolated from their families through their services.
All four companies have also expressed their uncertainty as to whether or not the government has already flown migrant children through their airlines. However, American said it would be "extremely disappointed to learn that this is the case." Part of American's statement read:
The family separation process that has been widely publicized is not at all aligned with the values of American Airlines - we bring families together, not apart ... We have no desire to be associated with separating families, or worse, to profit from it. We have every expectation the government will comply with our request and we thank them for doing so.
United also issued a similar statement, saying the policy runs counter to their core beliefs.
"Based on our serious concerns about this policy and how it's in deep conflict with our company's values, we have contacted federal officials to inform them that they should not transport immigrant children on United aircraft who have been separated from their parents," United CEO Oscar Munoz said. "This policy and its impact on thousands of children is in deep conflict with that mission and we want no part of it."
Delta had also chimed in in agreement with the other airlines, however, it didn't directly say if it would fly migrant children or not.
Their decisions have prompted criticism from Tyler Houlton, a Department of Homeland Security spokesman, who called them "unfortunate," according to USA Today.
"Despite being provided facts on this issue, these airlines clearly do not understand our immigration laws and the long-standing devastating loopholes that have caused the crisis at our southern border," Houlton said. "Buckling to a false media narrative only exacerbates the problems at our border and puts more children at risk from traffickers."
Um, so the traumatic separation of young children from their parents isn't a bigger crisis? Really, dude? SMH.
Thankfully, Trump signed a border executive order on Wednesday, June 20, which is designed to keep migrant families together at the border instead of being split up under the highly-controversial "zero tolerance" policy, but a lot of damage has already been done. As TIME notes, more than 2,300 kids have been separated from their parents at the U.S.-Mexico border since the regulation was implemented. Additionally, disturbing images and audio of the separated children have recently surfaced, which paint a cruel picture of the reality behind the policy.
For example, in a recording obtained by ProPublica from an unidentified source on June 18, children — estimated to be between the ages of 4 and 10 years old — can be heard begging for their parents over a cacophony of other cries and sobs. Another child can be heard pleading to call a relative to pick her up. However, a border patrol agent ignores them all, joking that their collective cries sound like an "orchestra."
"Well, we have an orchestra here," the worker says. "What's missing is a conductor."
Elite Daily reached out to U.S. Customs and Border Protection and the Department of Homeland Security for comment on the recording and its veracity, but did not receive a reply.
As disheartening as the entire ordeal has been, at least these four airlines have the right idea in mind. It's little things like this that go a long way, honestly, so, great job, guys.