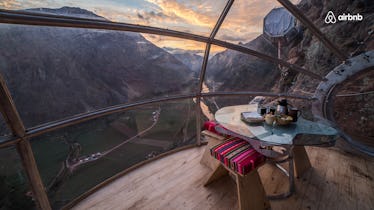 These Airbnb Zoom Backgrounds Transport You To Some Of The Dreamiest Places
When your Zoom call is about to happen, you're focusing on getting your computer setup organized and having the right link to join. You're not necessarily focusing on your setting, but with these Airbnb Zoom backgrounds, you can now be virtually transported to dreamy places across the globe.
Whether you're enjoying happy hour with friends or a long-distance date night with bae, it's fun to add a virtual background into the mix. Through your Zoom settings, you can use any image on your computer as a virtual background, so it looks like you're wherever your picture is. You could use photos of your favorite restaurants for a virtual brunch backdrop, or transform your apartment into the home of your favorite TV character. The possibilities are endless, but if you'd like to satisfy your wanderlust, use any of these Airbnb homes as your virtual background.
All of these backgrounds are actual images of Airbnb homes, so it may even influence where you'd like to go on your next vacay. From glass pods in the mountains of Peru to a cozy lakeside home in Ireland, you're sure to find a spot that'll make your travel-loving heart skip a beat. Go ahead and try it out for your next work meeting or virtual bestie catch-up.