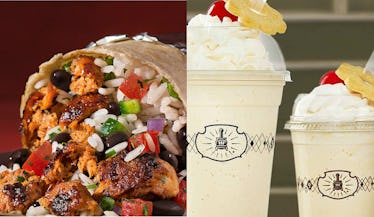 You Can Get Free Milkshakes & $4 Off Chipotle Delivery With These Memorial Day Weekend Deals
With Memorial Day coming up on Monday, May 27, you probably have a lot of activities planned on your day off. Maybe you're heading down to the beach, or perhaps you might be hosting a rooftop BBQ, or there's a chance you're going for a hike in the great outdoors. No matter what you're doing, you will most definitely be in need of a little fuel along the way, and in honor of the May holiday, there are a ton of food deals for the weekend. If you haven't already perused each and every one of these nine Memorial Day 2019 food deals, they're definitely worth taking a look at, to get some cheap options for the weekend.
Whether you're in the mood for sandwiches, snacks, or sweets, there are seriously so many options to tide you over during Memorial Day weekend, which really starts on Friday, May 24. Maybe you'll be spending time with family and won't even need to go out and grab food — but let's be honest — these deals are pretty fantastic, and you won't want to miss out on them. Regardless of your plans, these are definitely worth taking advantage of, so make sure to check them out for yourself, below.