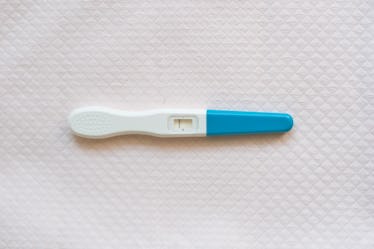 These 5 STDs Could Result In Infertility, So Make Sure You're Getting Tested
There is definitely a lot of fear mongering surrounding STDs that can make even the thought of getting tested for them so terrifying. And while most STDs can be treated once diagnosed, there are several that could have serious, irreversible effects on fertility if gone untreated. STDs that can cause infertility are something that need to be addressed as soon as possible to ensure that they don't compromise your reproductive health in the long run. While society loves to impose shame and guilt onto anyone who's ever had an STD, we all know that this is messed up. Sometimes, things happen, and there's no need to freak out. The best course of action is to always take steps toward figuring out what's going on and nipping any problems in the bud so things don't spiral.
"Getting exposed [to] or having an STD does not automatically predispose a person to have infertility," obstetrician and gynecologist Dr. Sheila Loanzon tells Elite Daily. In fact, she explains that the greatest risks associated with infertility come into play once STDs have already caused damage to the reproductive organs.
And let's be honest, having kids is easy for most millennials to brush off right now, because many of us are far from the point where family planning seems relevant. However, finding out you have an STD in the moment might certainly incite a little fear, and you definitely shouldn't employ an "ignorance is bliss" mentality. Here are five STDs that could cause damage to your reproductive system. Even if you don't think you have one, getting tested is still an important part of maintaining your overall health and well-being.