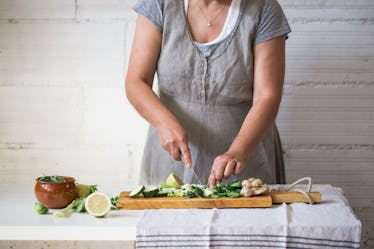 These Facebook Food Groups Will Totally Up Your Holiday Food Game This Season
If your holiday celebrations happen to resemble mine in any way, shape, or form, there's definitely a lot of cooking, baking, and — most importantly — eating involved. From crispy AF latkes to ooey gooey Christmas cookies, I'm always down to get creative in the kitchen for my friends and family. Sometimes, though, you need a little cooking and baking inspiration to perfect your holiday bites. If that's the case, these five Facebook Groups about food will definitely come to the rescue in the most festive way possible. Bon appétit, my fellow foodies.
Whether you're looking to feast sans animal products, indulge yourself in Southern-style cooking, or if you simply want to focus your holiday meal around an entirely different type of cuisine, there are so many interesting food-centric Facebook Groups you can join to chat with other like-minded foodies, thanks to the over 1.4 billion Facebook users who use Groups each month, per Facebook. With tens of millions active Facebook Groups, you're sure to find new recipes get some stellar kitchen tips from amateurs and professionals alike. Some of these groups are private and you may need to request to join, but there's a pretty good chance they'll let you in without any ifs, ands, or buts — and you'll join the more than 200 million Facebook So get that apron on, and take a look at the six suggestions I've listed below. You'll definitely be glad you did.