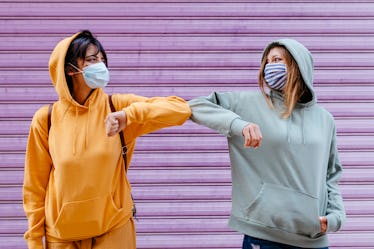 Your Vaccine Selfie Deserves A Clever Caption, So Here's Your Shot
As more and more states are opening up their eligibility for the COVID-19 vaccine, you may start seeing more vaccine selfies show up on your Instagram feed. People are excited to finally get their jab, so it makes sense that they would want to share their enthusiasm with their followers. If you're thinking of doing it for the 'Gram as well, you'll need the help of these clever vaccine selfie Instagram captions to make posting just like getting the shot — quick and easy.
The vaccine selfie (aka vaxxie) trend has become so popular, even fashion is reflecting it. So many people are going out and getting vaccine-ready styles like cute off-the-shoulder tops and cold shoulder sweaters to wear to their vaccine appointments so their arms are easily accessible — and they look good doing it. Just make sure that if you are posting a vaccine selfie with your card, you're blocking out all the important information like your date of birth, so you don't fall victim to scammers. In fact, it's probably better (and safer) just to post a cute selfie of you with your bandage. With any of these smart vaccine selfie captions, your friends will know exactly what your pic is all about. So, go ahead and celebrate by posting a shot for everyone to see.
"I'm not throwin' away my shot." — Hamilton
"So, I'll give it a shot, give it all that I got." — Lizz Robinett, "Renai Circulation"
"One step closer to vacay!"
"Why not give it a shot?"
"A shot for shot."
"Does this vaccine make me look immune to COVID-19?"
"I've got the antibody-ody-ody-odies."
"I've never been this excited to get a shot before."
"On Wednesdays, we get vaccinated."
"The 15 minutes you have to wait after getting your shot is the perfect time for a little photoshoot."
"Oops, I did it again... I got my second dose."
"As Lil Jon would say, 'Shots, shots, shots, shots, shots, shots, everybody!'"
"I know I had the best day with you today" — Taylor Swift, "The Best Day"
"They gave me a Band-Aid and everything!"
"This was the highlight of my week."
"See you in two weeks!"
"So far, the side effects are posting a selfie and telling everyone I know I got my shot."
"Time for a free Krispy Kreme doughnut."
"All those years of waiting in lines at Disney prepared me for waiting in my vaccine line."
"All vaxed up and ready to go."
"Vaxed is the new black."
"Worth a shot."
"Vaccine shots > tequila shots."
"It's a topknot and vaccine shot kind of day."
"Life is better when you're fully vaccinated."
"Maybe she's born with it... maybe she's fully vaccinated."
"I'm still wearing the smile my vaccine gave me."
"I'm ready for some hugs."
"You can't tell, but the smile behind my mask is the biggest you've ever seen."
"Today is officially my favorite day."
"Do it for Dolly Parton."
"I'm having Pfizer pfun."
"Sorry, COVID — I'm officially vaxed and too glam to give a damn."
"Hoping to never need to have a Zoom party ever again."
"Feeling like a hot shot."
"Hit me with your best shot." — Pat Benatar, "Hit Me with Your Best Shot"
"This right here is the money shot."
"I'm pro-science and pro-Dolly Parton."
"I got the Fauci ouchie."
"I'm ready for a shot girl summer."