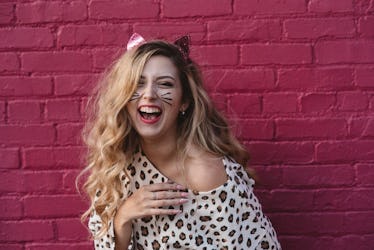 These 3 Zodiac Signs Will Have The Best Halloween, So Revel In The Dark Magic
You better be thinking about Halloween already, because according to ancient legend, it's the one night where monsters, spirits, witches, and dark entities are allowed to mingle with our world. While I may not be a child anymore, I still get that enchanted feeling that something mystical has been awakened on Halloween. And, if you're not as fanciful about Oct. 31 as I am, let's at least acknowledge how f*cking awesome it is to have a designated holiday for full-blown costume parties. I mean, in the words of Cady Heron: "Halloween is the one time of year a girl can dress like a total slut and no other girl can say anything about it." Have I proven my point yet? Whether you're going ghoulish and horrifying or sexy and cute, these zodiac signs will have the best Halloween 2018: Leo, Scorpio, and Sagittarius. You better bet you'll feel just as spooky and just as adorable if any of these signs happen to be your rising sign.
Because although you probably love watching horrified victims run away from knife-bearing monsters in horror movies, I think it's safe to say we'd much rather be watching Halloween than actually being in Halloween. Just ask Jaime Lee Curtis! So, if you made the cut, get ready for the magic to be on your side.
Leo: You'll Discover Your Magical Powers On Halloween
If you were wondering how connected you'll be to all the mystical forces at bay on Halloween, the answer is very. A third quarter moon in Leo will radiate its magic throughout the night on Oct. 31. I think it's safe to say that this year, no one can doubt the fact that you're a witch.
Glowing with your majestic and sparkling light, this moon marks an important moment during the spiritual waning phase of the lunar cycle. This announces a period of release, forgiveness, and understanding as you prepare for the next chapter. Allow all your chakras to be aligned. Let the universe permeate you with empathy, power, and confidence. You'll howl with the wolves. You've got magic gleaming from your fingertips.
Scorpio: You'll Be Halloween's Deadliest Witch
It should basically be a fact of Halloween law that you are always royalty on Oct. 31. You're the queen of every coven. You're the most powerful witch in all the land.
When the sun is in your first house of the self during this mystical holiday, you've got all the power of the cosmos on your side. You're fully in touch with your natural talents, pumped about the future, and reminiscing on how far you've come. Remember when you were just a little witch. Well, take a look at the witch you are now, baby.
Oh, and I almost forgot. Halloween will also miraculously be the day in which Venus retrogrades away from Scorpio and back into Libra, giving you a well-deserved break from her naughty whims.
Sagittarius: You'll Be Riding A Broomstick On Halloween
You're an adventurer at heart. You're the first witch to hop on a broomstick and fly across town, reveling in the feel of the wind beneath your wings. Did you know that Oct. 31 will be the day that Mercury — planet of communication, logic, and travel — will enter Sagittarius? Yes, that's right. You're intelligence levels are about to blast through the roof, and so is your penchant for spontaneity and excitement.
Prepare to feel dazzled by new experiences and enlightened by new ideas this Halloween. You'll be the witch that leads the way towards uncharted territory, showing everyone a whole new perspective of what Halloween is truly all about.