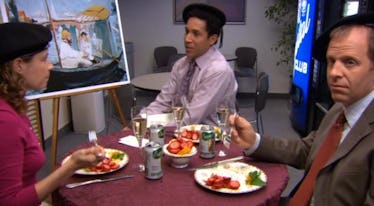 There Was A "Finer Things Club" 'Office' Reunion & It Will Make You So Jealous
NBC
Dust off your copy of a A Room With a View. Dunder Mifflin's esteemed "Finer Things Club" just reassembled over 10 years since it was introduced on The Office. Fans of the show may recall founding members Pam, Toby, and Oscar's lunchtime ritual, which was brought up in Season 4's "Branch Wars," where the group would meet up to discuss literature, art, and culture "in a very civilized way." Jenna Fischer took to social media on Wednesday, May 2 to reveal there was indeed a "Finer Things Club" Office reunion and it was all for a charitable cause.
"Finer Things Club Reunion!!! The charity drive inspired us to get the whole gang together - and, in the spirit of giving, to finally allow Andy to join. We had a great lunch. No paper, no plastic. AND, everyone signed the giveaway merch! Yay!" Jenna Fischer captioned her Instagram photo, which featured her smiling self alongside former Office cast members Ed Helms (who played Andy Bernard), Oscar Nunez (Oscar Martinez), and Paul Lieberstein (Toby Flenderson). Jenna is currently selling limited edition Finers Club merchandise in order to benefit Miri's List, an organization which helps refugee families through crowdsourcing solutions.
It's nice to know Ed Helms got formal recognition as a Finers Club member in 2018. His character Andy Bernard wasn't exactly a welcome recruit in the original 2007 episode, although of course he desperately wanted in. Never to be left out of anything or miss an opportunity to reference college terminology, Andy declared The Finer Things Club the most exclusive club in the office, noting the Party Planning Committee was his backup and Kevin's band would be his safety. Jim (John Krasinski) also briefly dabbled in participating, although he's not technically considered a part of the club. Just ask Jenna Fischer.
Eh, John's pretty busy these days anyway considering he directed and starred in one of the year's most unexpected box office smashes — A Quiet Place. But just because his film is already slated to spawn a sequel doesn't mean he's not down for an Office revival. "It's one of those things where I'm sure people don't believe me when I say I would totally do it, because the truth is I would totally do it," he told IndieWire in March.
Although Jenna Fischer is currently a lead in ABC's new sitcom Splitting Up Together, Krasinski's former TV wife also isn't opposed to further Office shenanigans. Although, as she explained to The Hollywood Reporter, the talented writers and producers would be just as integral to a successful update to the project as the beloved cast:
I think the idea of an Office revival is a great idea. I would be honored to come back in any way that I am able to. I loved playing that character and as long as Greg Daniels is the person in charge and the visionary behind it, then I would absolutely be up for it. We just have to get Mindy [Kaling], B.J. Novak, Gene Stupnitsky and Lee Eisenberg, Mike Schur to write some episodes. That show was so great because of the talent involved behind the scenes, not just on the screen.
There's hope for more Office yet, plus it's nice to know the cast continues to support one another outside the show. Angela and Pam weren't exactly besties on screen, but Angela Kinsey and Jenna Fischer remain super close in real life.
Ed Helms aka The Nard Dog even rocked a solo shot of himself dressed in Finer Things Club merch to shout out his "pal" Jenna. Brian Baumgartner did the same, although it's hard to imagine his character Kevin wanting access to its posh inner circle.
The Office really is the TV show gift that keeps on giving. Now, pass the tea sandwiches! Finer Things Club forever.