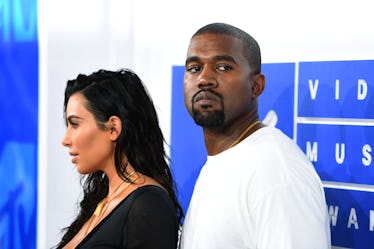 Kim Kardashian & Kanye West Were Targeted In Another Theft At Their House In LA
Larry Busacca/Getty Images Entertainment/Getty Images
Kim Kardashian and Kanye West were reportedly victims of a car theft at their Bel Air home overnight. The timing, of course, is totally eerie. It was just a little over a year ago when Kim K was the victim of a theft at gunpoint in Paris. The latest details of the theft at Kim Kardashian and Kanye West's house do have a bit of good news, however: the thief didn't get away with much of anything and his image was snagged on surveillance video.
TMZ was first to report the Kardashian and West car theft, noting that a thief "ransacked three vehicles at the end of their driveway and made a getaway." The security camera caught the suspect's face pretty clearly, so hopefully he's caught soon.
Law enforcement sources told TMZ that the theft happened at 4 a.m. PT Friday at their mansion. The suspect reportedly didn't enter their home, but did ransack their cars. The thief only managed to get an iPhone that belongs to one of Kardashian and West's staff members.
Security staff at West and Kardashian's home spotted the guy and chased him off the property. It appears that the alleged thief continued next door to Kathy Griffin's home, nabbing a purse from a car at the end of her driveway.
Additionally, the Los Angeles Police Department confirmed the theft to Us Weekly, telling the site that there was also a second person involved: "A witness observed a suspect enter and exit the victim's vehicle and then flee the location. A second suspect who was hiding in some bushes also fled the location. Suspect No. 1 took personal items from the victim's vehicle."
A source told E! News: "Nothing of Kim or Kanye's was taken. Their security handled it. The guy didn't even make it past the driveway. He was startled by their security, and dropped the phone he was trying to take."
TMZ later reported that, according to sources, the alleged thief "was met with heavily armed Kardashian-West security." Additionally, TMZ reports: "We're told it is now standard operating procedure for the family's hired muscle to brandish guns when an intruder invades the Bel-Air gated property."
The security reaction, sources told TMZ, resulted in the vandal running off the couple's property.
TMZ further notes that "the decision to brandish guns was made in direct response to the Paris robbery where armed gunmen tied Kim up, threw her in a bathtub and stole $10 million in jewelry."
Their security team clearly isn't taking any chances with the family's safety.
This theft also comes on the heels of Mariah Carey's mansion in L.A. having $50,000 worth of purses and sunglasses stolen, according to TMZ. Carey was not home at the time of the break-in.
Last year, Kardashian's Paris hotel room was broken into by a group of armed men who stole more than $10 million worth of jewelry. Earlier this year, she spoke about the Paris theft on an episode of Keeping Up With the Kardashians, explaining the horrifying experience. She said: "I knew something wasn't quite right" and provided more details abut what had happened. She noted that she asked the concierge: "Are they going to kill us? ... Tell them I have babies."
The frightening event, understandably, changed her, as Kardashian explained in an episode of KUWTK last month: "Ever since Paris, I just go through this worst case scenario mode in my head," noting that during their trip to Mexico for sister Kourtney's birthday she realized the family is "the biggest target" for theft.
Kardashian has not addressed the car theft on social media.
Check out the entire Gen Why series and other videos on Facebook and the Bustle app across Apple TV, Roku, and Amazon Fire TV.