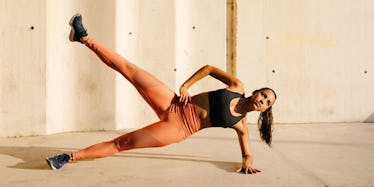 Experts Reveal The Best Workouts For Your Heart & They're Really Not Even That Difficult
I'll be honest: As a young person, I don't really think about heart health very much. But, at the same time, I'm completely aware that it's never too early or too late to start caring about this part of your health. No matter what your age is, including workouts that boost your heart health in your exercise routine is a great idea. If nothing else, establishing these healthy habits now will only set you up for success later on down the road.
"It's a known fact that there are well-documented benefits to heart rate-based training," Kailee Combs, vice president of fitness at the workout technology app MIRROR, tells Elite Daily over email. "The good news is that traditional cardio, such as running or cycling, isn't the only way to go." Bless.
In reality, according to Combs, anything that gets your heart rate up can count as cardio. In fact, she explains, strength training, if it packs enough challenging resistance and minimal rest, can actually get your heart pumping even more efficiently than traditional cardio can.
All that being said, here are five effective, strength-based exercises (and a couple more low-key options) that are sure to boost your heart health.