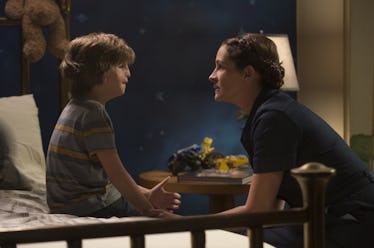 'Wonder' Is The Movie "The World Needs," According To The Cast – EXCLUSIVE
Dale Robinette
Choose kind. It seems like such an effortless concept, but we don't see it put into practice nearly as much as we should, which is why Wonder sets out to spread such a powerful and much-needed message. The new film is based on the bestselling R.J. Palacio YA novel of the same name and follows the amazing August Pullman, a 10-year-old boy born with facial differences who is entering mainstream school for the first time in his life. Elite Daily got the chance to speak with some of the Wonder cast at the L.A. premiere on Tuesday, Nov. 14, about the importance of the movie's themes and why the world needs a story like this, now more than ever.
Auggie's experience is a daunting one — fifth grade is hard enough as it is, and there are bullies and stares and the lingering feeling of being misunderstood to contend with on a daily basis. Though his eyes, as well as his peers and sister's, we learn just how much that simplistic notion of choosing kindness matters. It's no surprise that the film's tag line, #ChooseKind, has started a movement that might just have a positive effect on school yards, hallways, and beyond.
When we asked director Stephen Chbosky (The Perks of Being a Wallflower) what drew him to the material, he explained how he felt exploring life through Auggie's lens could make a difference. "The book was sent to me around the time my son Theo was born and I read it and I thought about the world he was entering, and I gotta tell you, there was something about the timing that really got me. I thought this movie can do a lot of great for this world," he said.
But the thing about Wonder is that it's sweet without being syrupy. It doesn't hammer home the sentiment and the lesson. Oh, yeah — it's humorous, too. Really. How did Stephen strike that balance?
When RJ [Palacio, the book's writer] and I sat down and we both talked about movies like Dead Poet's Society and ET and a wonderful European movie called My Life As a Dog that I recommend to everyone … I wish the world would see this movie. And we talked about this restrained, very elegant movie that would never be sappy and would never be over the top and we worked really hard to restrain it as much as possible.
The magnetic Daveed Diggs, who you likely recognize from Hamilton or Unbreakable Kimmy Schmidt, plays Auggie's teacher in the film. He touched on just what sets this particular narrative apart:
When I read the screenplay I was struck by how many emotions I felt when I was reading it, but how I didn't feel tricked and it's not too sappy but it's very sweet. It just felt like honest storytelling and a kind of storytelling that isn't done a lot these days — really kid-focused and also positive.
Diggs also opened up about how the act of choosing to be kind might not always the easiest option for some people, but that attitude has the potential to be altered on a regular basis. "It's not, but you do have a lot of opportunities to do it every day and it doesn't cost you anything to do."
Mandy Patinkin portrays Auggie's principal, Mr. Tushman. The actor expounded on the biggest takeaway audiences should expect from the film, saying,
It's love thy neighbor as you would love yourself. We're all one human race and we need to take care of each other. Don't judge a book by its cover. Look at the heart and soul of a human being and never is a story being needed to be heard, told, and listened to more than today. All over the world.
And Nadji Jeter, who plays Justin, points out the tremendous impact a film like Wonder is capable of having:
I think what it is — no matter what age, no matter what race, no matter what gender, no matter what you look like — you have to choose kind. This movie is going to do a lot. It's going to open up the eyes of a lot of kids as well that are going through bullying in their school. It's what the world needs right now.
He also took time to gush about working with the wise-beyond-his-years actor behind Auggie, Jacob Tremblay... because who hasn't?
That's like a 40-year-old man in a little body! Jacob's amazing. He can break your heart one minute and make you laugh the next. I think I learned a lot because just being on set it was just so pure, with all the kids. It was amazing and just a genuine good feeling being on set.
With such an uplifting and uniquely influential tale driving this film, we can only imagine the good feeling that resounded throughout while making it. And that definitely translated on screen.
Stephen Chbosky remarked that the full quote at the heart of this movie's message is: "Given the choice between being right and being kind, choose kind."
But just how do we do that exactly? Stephen notes, "Right now, I actually think that if we stopped and looked at each other's lives and realized that everybody has a family and people have friends and everyone is a hero in their own life, that we just stop and acknowledge each other, empathy will follow. And where empathy follows, kindness follows."
Wonder arrives in theaters Friday, Nov. 17.