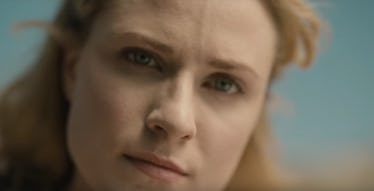 The 'Westworld' Season 2 Trailer Is Here & OMG, It's Going To Be Incredible
HBO
"What's it mean?" asks Evan Rachel Wood's Dolores in the opening of the new Westworld Season 2 trailer, after Bernard Lowe (Jeffrey Wright) recalls a dream where he found himself washed up alone on an ocean. "Dreams don't mean anything, Dolores," he explains in a somber tone. "That answer doesn't seem to seem to satisfy you."
"Because it's not completely honest," the incredulous host replies. Uh, oh. It looks like a reckoning is on the horizon.
Set to a haunting rendition of Nirvana's "Heart Shaped Box" (nothing says creepy like instrumental versions of '90s rock classics) by series composer Ramin Djawdi, the latest Westworld clip unveils a stunning peek at the heartbreaking moments, violence, and twists to come on the mind-bending sci-fi hit. Dolores is right. What's it mean?" Spoilers ahead if you have not seen Westworld Season 1.
Last season exposed a shocker of jaw-dropping proportions when Wright's Westworld Programming head Bernard ended up being a — dun, dun, dun — robot. In addition to that "are you kidding me?" reveal, the narrative served up multiple timelines, making following the already-perplexing events that much more dizzying.
It feels as though Season 2 will revolve around furthering the robot revolution, except this chapter looks bloodier and more intense than we could ever imagine. There are a whole host (had to) of issues to battle in the complex Delos Destination universe and beyond.
Thandie Newton's Maeve — who has apparently made her way to Samurai World — has revenge on the brain, as she's still fighting to to find her daughter. The trailer also reunites viewers with The Man in Black also known as Ed Harris, who claims "you and the rest of your kind are free." Although, like Dolores, we don't think that's completely honest. "I'm gonna burn this whole thing to the ground," he declares ominously.
The uprising is underway and Dolores is the one leading the charge, galloping confidently through the rough countryside amidst "bloodshed" and turmoil. "There is beauty in what we are," she reminds her fellow AI, Bernard. But naturally there's skepticism around that philosophy, too. "You frighten me sometimes, Dolores," he responds.
"Why on earth would you ever be frightened of me?" Dolores appeases, complete with an unsettling smile.
More familiar faces from Season 1 get screen time in the new trailer — James Marsden's Teddy, Tessa Thompson's Charlotte, Angela Sarafyan's Clementine, and Jimmi Simpson's William all make appearances. There's a lot to unpack, so I'm guessing the theories and over-analyzation will be in overdrive until the new season premieres on April 22.
Westworld co-creator Jonah Nolan weighed in on what to expect moving forward, following the first season's loaded finale:
If the first season is defined by control, the second season is defined by chaos. I think that's part of what we come to understand Ford [Anthony Hopkins] has been planning all along. Ford has set in motion what he thinks is a plan. The nature of that plan is something we explore in the second season: what his intentions are. Are they to let Dolores and the other hosts escape? Are they simply to teach the human guests a lesson?
Evan Rachel Wood confirmed the rampant chaos to come, recently divulging to ET that her multi-faceted character is like nothing that's ever been done before. She also noted that Dolores' intentions are "more complicated than you think." Wood explained, "I think she definitely wants her freedom, and she wants access to the world that's been denied to her. I don't know if her endgame is destroying it yet or not. I think that's something we're gonna explore a bit more."
Let the chaos commence. Westworld Season 2 premieres Sunday, April 22, 2018, at 9 p.m. ET on HBO.