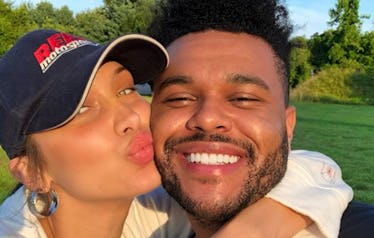 The Weekend Just Posted The Most PDA-Filled Pics With Bella Hadid For Her Birthday
Instagram/The Weeknd
Remember when Bella Hadid and The Weeknd broke up and everything was terrible? I know — barely. Me too. That's because everything is so perfect these days it's almost like that blip in their adorable relationship never even happen. Hadid and The Weeknd are as strong as ever and you can tell by simply taking a look at his birthday tribute to her on Instagram. The Weeknd's birthday post for Bella Hadid is packed with PDA, romantic photos, and a sweet caption, proving they're the real deal. Fans are loving it.
Hadid turned 22 years old on Tuesday, Oct. 9. The supermodel and socialite has led an extraordinary young life, skyrocketing to fame with her older sister Gigi Hadid and following in her mother Yolanda Hadid's career footsteps. She and The Weeknd, aka Abel Tesfaye, first began dating back in early 2015 when she was just 19 years old. (Ah, so young. So naive. So much ahead of them.) The two decided to call things off in 2016, which proved to be actually very productive. Whatever growth and maturing they did over the next year and a half ultimately led them back together in the summer of 2018. Today, The Weeknd's photos of Hadid on his Instagram account prove everything is perfect.
The "Call Out My Name" singer posted ten photos (yes ten) in a slideshow to honor Hadid. He captioned the series of pictures, "happy birthday Angel."
The first photo is actually a video through a mirror of The Weeknd sneaking a kiss with Hadid at a bar. In the following images, fans can see them kissing in a museum full of twinkle lights, snuggling court-side at a basketball game, another smooching selfie, another smooching selfie, kissing in a restaurant, singing karaoke, cheesing in a grassy field, and hanging out while Bella soaks in a tub full of rose petals.
You know, normal couple stuff.
According to sources, it was only a matter of time before fate brought The Weeknd and Bella back together, anyway. In July, an insider told E! News, "Abel realized once he started dating around that he actually is still in love with Bella, and they reconnected." The source added they were already "inseparable" at that time and were "truly working with each other's schedules to make it work."
Plus, the insider claims their basic interests and shared social circle helped aid a fairly organic reconciliation. "They have a lot of the same friends and their lifestyles really work for them," the insider said. "They both love to see new places and have new experiences and definitely share that commonality."
In just looking at their dynamic it's clear they're the right fit. At least for right now. The insider added,
Everyone around them always knew it was a matter of time and knew the undeniable bond that they had when they were together. They always drifted back in the same places so it was a matter of time before they decided to commit to each other again.
Checks out.
Happy birthday, Bella! Your fans love you almost as much as The Weeknd! Keep the pictures and good times coming.