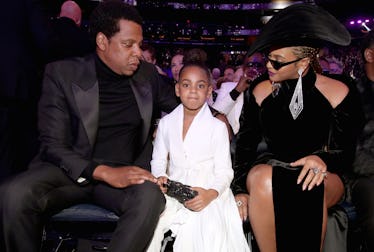 Blue Ivy Bid $19K On Art This Weekend & I Can't Even Pay Off My Student Loans
While all of us were spending this past Sunday hungover AF and regretting all of the money we spent and decisions we made this St. Patrick's Day, Blue Ivy Carter was busy collecting priceless works of art. You know, as 6-year-olds do. Beyoncé, JAY-Z, and Blue Ivy Carter attended Tina Knowles Lawson's Wearable Art Gala on Sunday, March 18, and Blue spent part of the night bidding $19K on art. Yes, you read that right. Six-year-old Blue Ivy Carter bid $19K on art this weekend, the whole thing was documented on Twitter, and the videos of JAY-Z trying to stop Blue Ivy from bidding on art have me weak.
In the videos, Blue raises her paddle just about every time auctioneer Star Jones asks for bids. JAY-Z steps in to jokingly try to get the paddle out of her hands so she can't bid anymore, but she's basically like, "LOL, Dad. We both know I can afford this." It's honestly the greatest thing I've seen in days, and yesterday I saw a man carrying a puppy in a baby carrier.
Blue Ivy Carter was in a bidding war with Tyler Perry over a painting of Sidney Poitier, and that's a sentence I never expected to write.
JAY-Z had to literally hold Blue back from bidding any more money.
People on Twitter can't handle the fact that Blue bid $19K on art.
The first Wearable Art Gala is Tina Knowles Lawson and Richard Lawson's fundraiser for the WACO (Where Art Can Occur) Theater. The gala was held in Los Angeles, and Beyoncé was one of the nights honorees, along with JAY-Z's mother, Gloria Carter.
Beyoncé and Blue Ivy rolled up to the Wearable Art Gala in matching gold outfits because of course.
Beyoncé and her mother-in-law were given an award for their humanitarian work, and Bey's speech about charity had Twitter sobbing.
She said,
I feel very overwhelmed and I feel really full and really blessed and fortunate. There's something that feels very off about receiving this award from my mother. She raised me to believe that giving was not an option, but a privilege and a responsibility. I never thought people should receive awards like this because in my opinion, the giving is the reward and that's enough. I try to keep my charitable work quiet because I feel like these things should come from the goodness of your heart and nothing orchestrated as a campaign. And if I'm honored, I keep it quiet because I feel like I could be doing more.
Bey also talked about her mother and it's making me sob all over my keyboard. She gushed,
I think the real reason I feel weird to receive this award from my mother is because I feel like I should be giving her an award tonight. There's no one that I respect and admire more, and there's no greater teacher ... My mother taught me through example. She taught me that if you lead with empathy, a giving heart becomes second nature. I grew up watching her heal, healing woman with conversations, love and makeovers! She also taught me that there's something more valuable than any dollar amount and that's time. Time to put someone else first. Time to change the trajectory of a child or a village or a community, and time to tell another person that you matter to me. You matter to the world and that your contributions are important. It takes time to build and nourish. It takes time to care for each other.
Michelle Obama also recorded a video message dedicated to Beyoncé that was played when Bey was given her award, and you can bet your ass I am very emotional right now!!
Obama said,
At a time where so many people are feeling afraid and looking inward, honey you give us the courage to reach out across every divide — race, class, gender, geography. It has been a joy to work with you on issues we care about and witness your outstanding work firsthand. Because millions of girls around the world love you and admire you — including my daughters — it means even more that they see you standing up for others. I love you. I am inspired by you. I'm so honored and proud of everything that you have achieved and everything that you have contributed to our country and our world.
I'M DONE. Blue Ivy bidding on art and Beyoncé being given all the awards is too much for me to handle on this Monday.