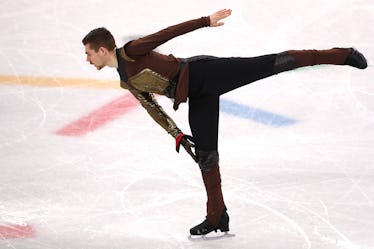 Paul Fentz Skated To Music From 'Game Of Thrones' & The Video Is Intense
Dean Mouhtaropoulos/Getty Images Sport/Getty Images
Game of Thrones fans got a surprise during the Men's Single Free Skating portion of the Olympics in PyeongChang. Why? Because one of the skaters performed to music straight from the show. A German figure skater got into character before hitting the ice, and the video of Paul Fentz's Game of Thrones skate is definitely worth watching (especially if you're a fan).
Fentz skated to music from the popular show on Saturday, Feb. 17 (Friday, Feb. 16 if you watched in the U.S.), and he definitely wasn't afraid to go all out. Mind you: I have limited Game of Thrones knowledge, but based off fans' reactions to the program, Fentz dressed up as Jaime Lannister — faux armor and all. The Berlin-native started his skate gracefully, with impressive jumps and regal motions. Toward the end of the skate, the music became fierce, and he ended with a powerful stance as the audience roared. Again, I don't watch Game of Thrones, but I can imagine that Fentz's performances had the same amount of suspense and intensity as the show. If you are a fan of the series, be sure to check out his iconic segment. You'll be proud, that's for sure.
NBC Olympics' Twitter account fittingly captioned a clip from Fentz's performance, "A Lannister always pays his debts."
As expected, Twitter went wild after his Game of Thrones-inspired free skate. While some people were excited to watch their favorite show make its way to the Olympics, others were just pumped about Fentz's unique song choice.
"Paul Fentz over here skating his free skate to Game of Thrones, dressed as Jaime Lannister complete with gold hand..."
"You're #1 in my book."
"ALL HAIL THE KING."
"JUST MAKE HIM TAKE FIRST PLACE ALREADY."
See? People were beyond excited about the majestic performance. However, he actually didn't earn first place from it (I know, bummer). Instead, Japanese Yuzuru Hanyu took home the gold for his individual free skate. This was especially impressive, because Hanyu also won the gold in men's figure skating in the Sochi Olympics. He's the first olympian to secure his gold in over six decades, and that's pretty dang impressive.
While we're talking about Hanyu, let's not forget about the pop culture he also tied into his performance (or, should I say "after" it). The Japanese skater is obsessed with Winnie the Pooh, and after his performances, fans typically throw Pooh dolls onto the ice. Of course, he doesn't actually add Winnie the Pooh into his routine, but fans make it a point to shower him with Pooh bear-love after each skate. Between Hanyu's love for Pooh and Fentz's Game of Thrones skate, I can tell Olympians aren't afraid to let the audiences know what they're into.
As cute as Winnie the Pooh is, let's get back to Fentz. Although his free skate program to Game of Thrones music was super popular, his previous performance was also one to be remembered. Fentz skated to a big band version of "Wonderwall," and fans went wild. Some of them loved the song choice, while others didn't even know there was a jazz version of "Wonderwall." (I had no idea, but the song is definitely going to be stuck in my head for hours now.)
Regardless of the "Wonderwall" hype, Fentz stumbled during the performance and did not place. However, I still admire his unique song usage, and think other skaters could learn a thing or two from his choices. Between the "Wonderwall" cover and a Game of Thrones skate, Fentz wins in my book.
Check out the entire Gen Why series and other videos on Facebook and the Bustle app across Apple TV, Roku, and Amazon Fire TV.