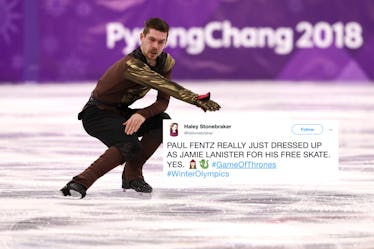 Paul Fentz Skated To Music From 'Game Of Thrones' & Twitter Is Living For It
Jamie Squire/Getty Images Sport/Getty Images
Figure skating is one of my favorite Winter Olympic sports to watch, and it's always a delight to watch the non-American skaters we don't know too much about shine in unexpected routines. Such is the case for German figure skater Paul Fentz, who performed in PyeongChang on Saturday morning (Friday night in the U.S.) at the Men's Single Free Skating program to music from Games of Thrones. Tweets about Paul Fentz's Games of Thrones skate have praised the athlete for his modern, understandably epic choice of music in his free program routine.
The Olympic short program on Friday (in PyeongChang) included 30 skaters in total, and 25-year-old Fentz, finishing in 24th place, was the lowest-ranked man to qualify for the free skate. Before any skaters were cut from the competition, he first skated his short program routine to a big band version of "Wonderwall," causing the song title to trend on Twitter. In an unprecedented Olympic move, figure skaters at the 2018 Winter Games are now allowed to perform to music with lyrics, which, in Fentz's case, has clearly jazzed up the creative possibilities of a routine.
Despite his influence on social media, Fentz stumbled twice during his "Wonderwall" routine, leading to his low score. I'm willing to forgive these mistakes if he shares where he finds such jazzy, new versions of overdone songs.
While I know that some viewers may not have appreciated the choice of "Wonderwall," other Twitter users agreed with me about loving Fentz's amazing music.
When speaking to the Wall Street Journal about his unique music choice, Fentz said, "I want to be a cool guy on the ice." Well, if that wasn't definite with the "Wonderwall" routine, his Game of Thrones free skate routine totally solidified that reputation for him.
Performing third at the men's free program, which would determine medal winners, Fentz returned to the rink with this crowd-pleasing musical choice. Dressed in a costume that appropriately resembled a knight's clothes, he performed to the well-known music from Game of Thrones, proving that if the Olympics themselves aren't going to unite the world, then Games of Thrones certainly will.
The Berlin native began his routine gracefully, skating to slower moments of the famous theme tune before the music built to its fiercer, more threatening tone. Although I hope that the performance eventually earns him shoutouts from Games of Thrones cast members, plenty of other people on Twitter appreciated Fentz's good taste in music.
While the music was the highlight of the performance for many, other spectators chose to focus on the technicalities of Fentz's routine.
The routine is a tried-and-tested performance for Fentz, who has turned to it for free skate programs throughout his entire 2017-2018 competition season. Although he finished in 20th place at the 2017 World Championships, he still won Germany a spot in men's skating at the PyeongChang Olympics.
Despite his entertaining routines, Fentz entered the Olympics as a clear underdog. As the only solo male skater from Germany, Fentz's talent was often overshadowed by more well-known skaters in his event. After the short program, Japanese athlete and defending Olympic champion Yuzuru Hanyu was in the top spot, followed by Spanish skater Javier Fernandez.
Surprisingly, acclaimed American skater Nathan Chen faltered during his short program routine, finishing in 17th place while fellow American Adam Rippon ended up in 7th. Such results meant that Rippon received a better performance slot in the free program lineup than Chen, known previously as the Team USA favorite to win. In the end, however, Chen redeemed himself by landing a historic six quad jumps in his free skate routine, sweeping away the competition.
While it's unlikely a medal is in store for Fentz in PyeongChang, he definitely wins my vote for most creative at the Olympics.