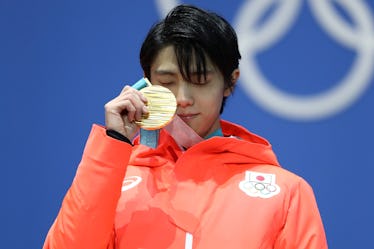 Yuzuru Hanyu Won The Gold For His Free Skate & You Need To See The Video
Ryan Pierse/Getty Images Sport/Getty Images
Along with most of the U.S., I was obviously rooting for our beloved Adam Rippon to snag the gold during the Olympic men's free skate competition. And even though he kicked butt, Adam lost to a really stellar skater from Japan. Yuzuru Hanyu won the gold medal for his individual free skate program, and he definitely deserved it. So if you weren't able to catch it live, the video of Yuzuru Hanyu's free skate is most definitely worth watching.
On Saturday, Feb. 17 (or Friday, Feb. 16 if you watched in the U.S.), Yuzuru Hanyu won gold, naming him the figuring skating champion in PyeongChang's Winter Olympics. For his performance, Hanyu racked up an impressive 317.85 total points, per NBC, and beat Shoma Uno from Japan by 10 points, who scored 306.90.
Hanyu selected an intense and beautiful song, filling the rink with a solid drum beat, light wind instruments, and orchestral sounds. Hanyu's interpretation of the song was dramatic and spot-on, as he nailed each and every one of his attempted tricks. He finished with a confident pose, and it was immediately clear he won the title of men's world champion figure skater. However, his big win wasn't a major surprise, because Hanyu also won gold in Sochi. Nevertheless, winning the world champion title is always kind of shocking (and a huge feat), and he's officially the first male figure skater to win back-to-back Olympic gold medals since 1952.
You can see part of his skate below, and the full routine here on NBC.
Hanyu also stunned viewers and fans with his short program performance, which occurred on Friday, Feb. 16. He won first place for that as well (obviously, because he's a boss), and scored a ground-breaking 111.68 points. He beat out Spanish skater, Javier Fernandez, by four points, as Fernandez snagged second place with 107.58 points. Hanyu is literally a skating fiend, and just watching him makes me feel vicariously just as graceful. As usual, he chose a classical tune, and his moves were dramatic, and super sharp. There's no denying that Hanyu might actually be the figure skating man of my dreams, because his talent and confidence is what all of us need in our lives.
Over the course of these Winter Olympics, you might've wondered why each of Hanyu's performances end in a shower of Pooh Bear dolls, because I know I have. While it's a tradition in the sport of skating for fans to toss gifts onto the ice (which is usually flowers or chocolate), Hanyu apparently really, really loves Winnie the Pooh. And since at least 2010, Hanyu has brought a Winnie the Pooh tissue box to each and every one of his competitions. Although he usually has the tissue box facing him when he skates for good luck, he was apparently not able to bring it to the Olympics, because it would violate branding and sponsorship rules. But, fans still came through and showed support for the Pooh-loving skater by throwing Pooh dolls after each of his performances. And although it's a little bizarre, it really is pretty cute and thoughtful.
So, once again, the world champion men's figure skater is officially Yuzumu Hanyu of Japan. It's kind of hard to believe that he's the first to win back-to-back gold medal titles in over six decades. Even though I'm still cheering on Rippon for all of his amazing accomplishments throughout the Winter Olympics for Team USA, Hanyu's talent is seriously mind-blowing, and his wins were well-deserved. Winnie the Pooh, as well as myself, are beyond happy about Hanyu's stellar achievements — and TBH, we're all super jealous of his gazelle-like manner... there's no denying that his beauty and grace is seriously #goals.