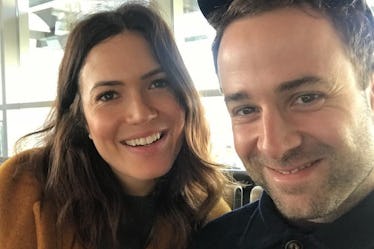 Mandy Moore Sang The Most Romantic Duet With Her New Husband At Their Wedding Reception
Instagram/MandyMoore
Mandy Moore is a newly married woman. And if the photos and videos from her amazing wedding day are any indication, then I think it's safe to say that her marriage is going to be as musical as it is romantic. Not only did Moore marry fellow musician Taylor Goldsmith, but she also performed a duet with him during their wedding reception. The video of Mandy Moore and Taylor Goldsmith singing at their wedding will definitely get you in the mood for love and romance!
The video was posted to Instagram on Monday, Nov. 19 by wedding guest Amy Kaufman. In the video, you can see Goldsmith playing a guitar and Moore standing alongside him as they both sing together. It's clear from the video that the two are head over heels for each other. The love between them is palpable even just from watching the video!
Apparently, Kaufman was feeling it too because she was basically swooning over the couple in her Instagram post.
"I love this lady and the man who makes her blissful," Kaufman wrote in her caption of the video. "I'm so glad you found the scientist to your polar bear, @mandymooremm! What a beautiful celebration of music and love. 💒 👰🤵💞"
Isn't that the sweetest thing ever? Even sweeter is the video itself. Have a look:
Moore and Goldsmith married in an intimate ceremony over the weekend on Sunday, Nov. 18. According to Entertainment Tonight, the wedding took place in Moore's backyard and the reception was held at The Fig House in Highland Park. E! News was first to report the news and Moore confirmed it in an Instagram post on Monday, Nov. 19.
According to several sources for E! News, the wedding had a very "boho" feel with "rugs on the floor surrounding the altar. The flower arrangements were beautiful with lots of large feathers." The food options offered a wide variety and included a "number of food stations around the venue, including meat, chicken, vegetarian, raw food, flat bread, cheese and charcuterie and more."
And what of the cake? Well, apparently there were lots to choose from! "They'll have 12 different kinds of cake for people to try," a source for E! News revealed.
So, this was a really intimate and inclusive ceremony that was laser-focused on friends and family.
One source for E! News said, "There was a small group of family and friends that looked to be about 50 people." As for whether Moore's This Is Us co-stars attended the wedding, another source for E! News revealed that all the big names were there! Milo Ventimiglia, Chrissy Metz, and Sterling K. Brown reportedly attended the wedding as did Minka Kelly and Wilmer Valderrama.
So, the This Is Us gang was all there and then some! All in all, it sounds like Moore and Goldsmith had a really lovely wedding. And there's no better way to start a new chapter of your life with good food, good music, and good company. Congratulations to the happy couple!