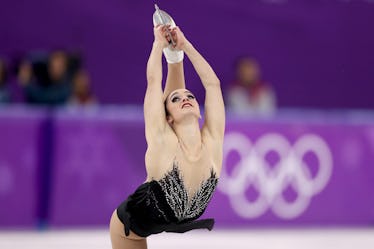 Kaetlyn Osmond's Free Skate Was Dramatic & You Need To See The Vid
Richard Heathcote/Getty Images Sport/Getty Images
On Friday, Feb. 23 (Thursday night in the U.S.), Canadian figure skater Kaetlyn Osmond won her first individual medal at the Olympics, earning bronze in the ladies single skating competition. The medal was sealed after the 22-year-old performed a free skate routine that earned a 152.15 score, enough to create more than eight points of daylight between herself and her nearest competition for third place, Japan's Satoko Miyahara. On a day that provided many highlights at the Gangneung Ice Arena in South Korea, the video of Kaetlyn Osmond's free skate shows exactly why she was worthy of a medal.
After capturing bronze, Osmond took to Twitter to express her excitement for the success.
"Where do I start? This Olympic games have been absolutely crazy!" Osmond wrote. "Winning gold with Team Canada, watching everyone else skate their hearts out while I not-so-patiently waited for my turn, and then leaving everything I had on the ice for my bronze medal!!!!!"
In a separate tweet she continued, "Thank you so much to everyone who has supported me and everyone back home in Canada! None of this would have been possible without you!"
While the bronze medal Osmond earned is her first that she's won in a singles competition at the Winter Olympics, the Canadian has also won a gold medal during the early stages of the PyeongChang Winter Games, winning the team figure skating competition with her fellow Canadian teammates.
Osmond also won silver in the team competition at the 2014 Winter Olympics in Sochi, Russia.
After Osmond's free skate on Friday, one of her teammates lauded her performance on Twitter with one-word sentences. "Brilliant. Captivating. Commanding," wrote Tessa Virtue, who won a gold medal in pairs skating with long-time partner Scott Moir.
You can see a portion of her skate in the tweet below and the full routine here on NBC.
Kaetlyn Osmond's bronze medal success came on a day during which the top two competitors for gold and silver were as far ahead of Osmond as Osmond was the rest of her competition.
Those two competitors were Russian teenagers Alina Zagitova and Evgenia Medvedeva, who were official competition under the team name of "Olympic Athletes from Russia," due to the ban of the Russian Olympic Committee for doping.
Zagitova, 15, and Medvedeva, 18, will be taking home gold and silver respectively, after putting on a series of record setting performances that created over seven points of separation between themselves and third placed Osmond.
"I won," Zagitova said after her free skate performance, per NBColympics.com. "Honestly, my hands are shaking, because I haven't understood yet that I am an Olympic champion.
Despite falling short of gold, Zagitova's training partner and teammate, Medvedeva, expressed satisfaction with her performance.
"I didn't think about errors, not about a clean skate. Honestly, I skated like in a fog, for the first time," Medvedeva said after her free skate, per NBC Olympics. "It is because I realize that I am enjoying the process, these four minutes are historical and they only belong to me and the whole world is watching only me for those four minutes. My soul thrives on that feeling, the body and the brain did their job. This will remain forever in my memory, because I gave it my all."
As for Osmond, she, too, was happy with her performance, as it marked a significant improvement from her showing at the 2014 Winter Olympics.
"My goal here was just to improve on that 13th-place finish," Osmond said after her free skate performance on Friday, per The Toronto Star. When I heard that I came third, I just reminded myself that that's something I thought that I would never be able to do."
She's done it now, and thanks to her performances, she's become a three-time Olympic medalist.