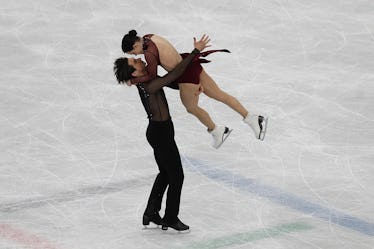 Virtue & Moir's Gold Medal-Winning Free Dance Is So Dramatic & You Need To See It
Richard Heathcote/Getty Images Sport/Getty Images
On Tuesday, Feb. 20, Canadian duo Tessa Virtue and Scott Moir became the most decorated ice dance team in Olympic history. During the free dance portion of the ice dance competition — one of five figure skating events at the PyeongChang Olympics in South Korea — the pair sealed a gold medal after scoring 122.4 points, a personal best for the two competitors. Now, the video of Virtue and Moir's free dance stands as one of the more impressive highlights from the 2018 Winter Games.
Meanwhile, their overall score now stands as the best ever. Period.
Virtue and Moir's 122.4-point performance in the free dance on Tuesday was second behind France's Gabriella Papadakis and Guillaume Cizeron, who received a score of 123.35. But when Virtue and Moir's free dance was combined with their short dance performance from Monday, their overall score of 206.07 was not only good enough for gold, but for a world record as well.
Having won the ice dance gold in PyeongChang, and another gold a week prior with Canada in team figure skating, Virtue and Moir have now won five Olympic medals together over the span of three Winter Games. It is that handful of medals that sets Virtue and Moir apart as the most decorated figure skaters in Olympic history.
You can see part of their routine in the video above, and the full free dance here at NBC.
With three gold medals and two silvers to her name, Virtue has hinted at plans to ride off into the sunset.
"I think it's a nice end to our Olympic career," 28-year-old Virtue told CBC Sports after winning gold. "I can't help but think about the 20 years we've spent working for this moment."
Moir, on the other hand, was much more coy when commenting on the prospect of retirement. "If it is the end we are extremely pleased with that," 30-year-old Moir said after Tuesday's performance, per Olympics.org. "We'll probably make an announcement in the coming days, but for us we just want to enjoy this right now and let the dust settle and figure out what's next."
Shipping Virtue and Moir
If you want to know why Tessa Virtue and Scott Moir are popular in Canada, you can chalk it up to a number of factors. First there's the fact that the pair won their first ice dance gold on home soil, during the 2010 Winter Games in Vancouver.
Then there's the fact that they've maintained a high level of performance over a long period of time, having won three world championships and, now, another ice dance gold at the 2018 Winter Olympics. The pair were also joint flag bearers for Team Canada during the opening ceremony in PyeongChang.
Then there's the underlying sense of romance. Virtue and Moir have been skating together for over 20 years, since they were kids. Over that time, they've become known for putting together not just graceful, but sensual performances.
"There's a certain amount of it that's real," Moir told the Toronto Star ahead of the ice dance event in PyeongChang. "You're right, we don't have to fake the feeling of looking into each other's eyes and feeling something. I mean, that's a joy. It's been a joy our whole career."
It walks like a love story and it talks like a love story. But despite the amount of fans that have been shipping the pair, the two Olympians have not said that they are involved romantically.
In an interview with Canada's Maclean's magazine, Moir said, "What we have is such a cool relationship. It's more about a friendship, our working relationship is so strong. We take so much pride in that."
Finishing behind Virtue and Moir in ice dance on Tuesday were Papadakis and Cizeron — with whom the Canadian duo trains. Finishing in third place for the bronze medal was American brother-sister duo Alex and Maia Shibutani.
"[This bronze] feels like gold. It's unbelievable," 26-year-old Alex Shibutani said after the third place finish. "I am so proud of the way we fought through this week and the season. We are so emotional."
Meanwhile, Virtue and Moir will now enjoy fifth, and perhaps final, Olympic medal.
The whole of Virtue and Moir's performance, which was performed to "Come What May" from the Moulin Rouge soundtrack can be viewed at NBColympics.com.