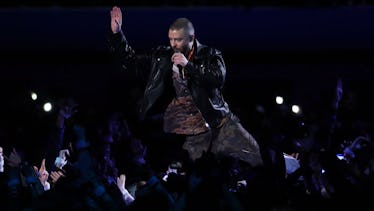 The Video Of Justin Timberlake's Super Bowl Halftime Performance Will Have You Dancing
Andy Lyons/Getty Images
The Super Bowl is a big deal even for those of us who do not care about football at all, because the halftime show is always a major music spectacle. This year, Justin Timberlake took over the Super Bowl halftime stage to deliver a retrospective performance covering his entire hit-filled solo career. Scroll down and check out the video of Justin Timberlake's Super Bowl halftime performance below.
Justin Timberlake took fans on a funk-filled tour through all of the hits of his solo career during the halftime show. Unfortunately, '90s kids did not get to see a reunion of JT's career-beginning boy band NSYNC. Joey Fatone had confirmed a couple weeks earlier that NSYNC would not be reuniting at the Super Bowl, but diehard fans were still holding out hope for a dose of boy band among JT's set on Sunday night... only to be let down.
Skipping over his boy band past, Justin Timberlake kicked things off with his newest single, the perplexingly robotic "Filthy," before taking it back to the beginnings of his solo career with "Rock Your Body" and "Señorita." Timberlake wore a camouflage-patterned suit with a red bandana around his neck throughout the show, a weirdly classed-up Duck Dynasty vibe which I can only assume is part of his strange new "Man of the Woods" persona. JT also hit career classics like "SexyBack," "Cry Me a River," and "Mirrors" in his performance, before ending with last summer's smash: that song from the movie Trolls ("Can't Stop the Feeling"). Check out video of the halftime show below:
Before Justin Timberlake took to the stage, there were tons of rumors and guesses about what the singer would do for the performance... and who he might bring on stage with him. Fans were throwing out a bunch of guesses, from his former NSYNC bandmates, to Janet Jackson, to a hologram of Prince. The Super Bowl stage has been a hotspot for surprise appearances and collaboration for years, but JT kept the stage to himself throughout his nearly 15-minute performance... save for an introduction from best bud Jimmy Fallon and some jamming with his band the Tennessee Kids. Although Prince's family had earlier stated that they were against Timberlake using a hologram of the late singer during his performance, Timberlake did project a large image of Prince behind him while performing a cover of Prince's hit "I Would Die For You."
Another very controversial moment came at the very beginning of Justin Timberlake's performance, when he came onto the field singing his early hit "Rock Your Body." As pretty much everyone knows, backlash has surrounding Timberlake's selection as this year's Super Bowl performer due to his involvement in what became a national scandal last time he performed at the Super Bowl. Back in 2004, Timberlake ended his performance with Janet Jackson by tearing her top off, exposing her breast on national television. That happened during the last lyrics of "Rock Your Body," his single which ends with the words, "I'm gunna have you naked by the end of this song." With this scandal once again fresh on every viewer's mind (Janet Jackson Appreciation Day was trending online all of Sunday leading up to the Super Bowl), Timberlake still opted to perform "Rock Your Body" during his halftime show, although this time he stopped the song before getting to those final lyrics.
The full setlist of Justin Timberlake's Super Bowl LII halftime show was as follows:
"Filthy"
"Señorita"
"Rock Your Body"
"SexyBack"
"My Love"
"Cry Me a River"
"Suit & Tie"
"I Would Die For You" by Prince
"Mirror"
"Can't Fight the Feeling"
Make sure to rock out to the video above on repeat all week.