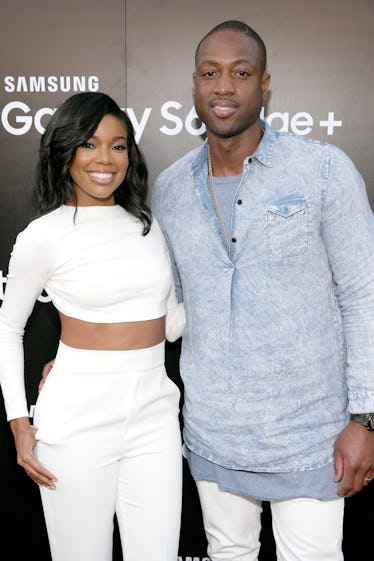 The Video Of Gabrielle Union & Dwyane Wade Discussing Parenthood With Oprah Is Emotional
Jonathan Leibson/Getty Images Entertainment/Getty Images
As you've probably heard by now, Gabrielle Union and Dwyane Wade just became the proud parents of a baby girl named Kaavia James. Little Kaavia is only a few weeks old, but Union and Wade have shared so much of her young life with the world already! For example, the happy couple recently sat down with Oprah Winfrey to discuss their special journey toward becoming parents, which included using a surrogate to have Kaavia. The video of Gabrielle Union and Dwyane Wade discussing parenthood with Oprah is super emotional, but also uplifting!
Union and Wade sat down for an interview with Oprah for a new special called Oprah at Home with Gabrielle Union, Dwyane Wade & Their New Baby. The teaser video for the special provides highlights of the interview, such as Oprah asking the couple about what it's like for them to parent together.
In much of the video, which you can watch here, all Union and Wade can do is beam with pride. "You're finally a mother at age 46," Oprah says to Union at one point. Union can only nod and say "yeah," but you can tell it's emotional for her to be able to say that she's finally a mom.
At other points in the video, it's clear that the journey was, at times, trying for the couple. Union reveals that it's tough for her to come to grips with the fact that she didn't carry the baby herself and Oprah even asks what the couple's relationship with the surrogate will be like.
Wade also opens up about the journey. "Everybody started talking about why is she acting like she just had a baby," Wade says in the video, seemingly revealing that Union faced some judgment and skepticism in the days following the birth of her daughter. It's clearly an emotional topic for the couple, but Oprah doesn't shy away from discussing it.
"You want to explain that?" Oprah prompts Union and Union hesitates a little. The video doesn't show whether she answers Oprah's question, but it's likely Union will address it.
Overall, it seems like the interview will be quite a comprehensive one and definitely shine a light on the ups and downs of having a baby through a surrogate.
Union and Wade welcomed Kaavia in early November 2018 and shared the news of her birth on Instagram.
Union and Wade have been trying to have a baby for quite some time now. Union even detailed her journey with infertility in her 2017 memoir We're Going to Need More Wine. "For three years, my body has been a prisoner of trying to get pregnant — I've either been about to go into an IVF cycle, in the middle of an IVF cycle or coming out of an IVF cycle," Union wrote.
So, Union and Wade have definitely been through quite a journey and now that little Kaavia is here, I'm sure they're beyond ecstatic that they're able to enjoy parenting together. If you're interested in hearing all about their journey, be sure to catch Oprah at Home with Gabrielle Union, Dwyane Wade & Their New Baby on Saturday, Dec. 7 at 8 p.m. on OWN.